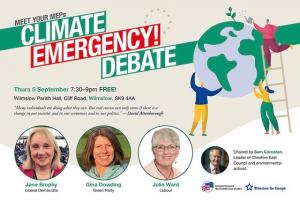 Local residents are being invited to meet with three North West MEPs this week to learn what they are doing to tackle the Climate Emergency and how it affects us here in Cheshire.
A Climate Change Emergency evening, organised by Wilmslow for Europe and European Movement Macclesfield and East Cheshire, will be held at Wilmslow Parish Hall from 7.30pm to 9pm on Thursday 5th September.
The evening of informative discussion, which is free to attend, will be chaired by Sam Corcoran, Leader of Cheshire East Council, and include a panel of three of our North West MEPs: Jane Brophy (Liberal Democrats), Julie Ward (Labour) and Gina Dowding (Green).
Sarah Murphy, from the Wilmslow for Europe group, said "We would be delighted to welcome you there on the night. It will be a great opportunity to meet the politicians who represent us in the European Parliament and find out how their valuable work benefits us here in the North West.
"In a summer of record high temperatures and then devastating floods and the Whaley Bridge dam collapse, it could not be a better time to find out more about what they are doing to support environmental efforts locally."