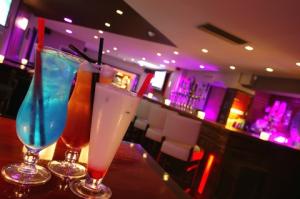 Small things can often have a big impact on the desirability of living in an area. Start up a few trendy restaurants and bars and a place can take off. It's surprising more estate agents haven't invested in such opportunities. But you need a good balance to make it really work for the whole community.
Looking at the type of leisure entertainment places given planning permission in Wilmslow in recent years, we have seen a succession of what could be described as 'corporate-cloned drinking sheds' aimed primarily at young people, arrive in the centre. These tend to be large, noisy places where swilling down as many cut price drink promotions as possible is encouraged, to a background of giant sports TV screens. These giant screens actually guzzle up energy compared with smaller sets, yet they are being installed in large numbers.
Big leisure companies who drive these developments have a lot of clout, but councils need to think about encouraging more of a balance. At the moment, in Wilmslow the only 'choice' is between corporate drinking sheds or restaurants, for eating only. We should be encouraging more interesting and intimate alternatives, like the time when several years ago the 'Nose' wine bar-restaurant on Water Lane was open. This later changed hands to become another Italian restaurant. The appeal of such places can add life and quality to a town. It is not just about shopping.
From what I have read of the takeover of the No 15 wine bar and the Red Piano project in Alderley Edge, it looks like part of the same corporate licensing malaise council's so easily sign up to, that is unbalancing variety in our high street dining and drinking choices.
No.15 was an institution and a unique venue. Too quiet for some, but very stylish in a calm, cosy way, with lovely antique fittings. If the new bar is anything like the Gusto restaurant the new owners also run in Alderley village, we can look forward to ear-splitting, dumb music, that diners and drinkers alike strain to talk over, no doubt with a few sport tv screens on the walls to add to the froth. Under the old Est Est Est brand, at least you could enjoy a civilised conversation in a stylish venue.
It is time the Council thought harder about the type of 'clone style' venues it waves through licensing hearings and the effect of 'diminished choice' in social evenings this is actually leading to. With more venues we are actually getting less real choice. Many residents will remember the relaxed and stylish Nose Wine Bar and restaurant on Water lane that closed some years ago, only to be taken over by yet another pizza/pasta restaurant.
As with my previous articles, the concerns raised are a personal perspective, not necessarily the official policy of the Wilmslow Trust, for which I am vice-chair. But we hope it will get more people thinking about genuine sustainability policies at a local level.

If you would like to comment on these and other local environmental issues, do get in touch via the comment box below or via the Wilmslow Trust website.

If you are interested in exploring other challenging environmental issues see my previous articles looking at the issues of:
Struggling to deal with household waste
Growth of "A" board pavement advertising
Road traffic calming measures
Too much speculative office development
Street lighting