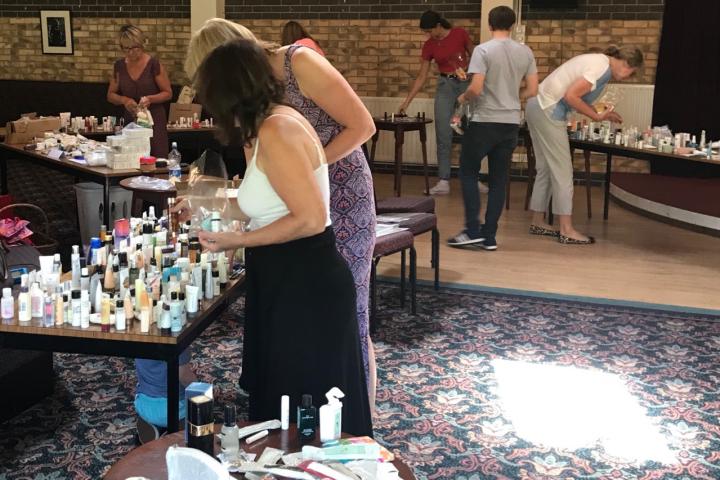 A toiletry bank set up by two Wilmslow residents held 'Operation Miniature' this week which was hosted by Wilmslow Conservative Club and proved very successful.
After reading an article last year about the effect hygiene poverty is having on families in financial crisis, Wendy Hobson and her friend Lisa Barker founded Bare Necessities Toiletry Bank to collect and distribute toiletries within the local SK9 community - to help alleviate hygiene poverty experienced by those in financial crisis.
This week a team of fifteen volunteers sorted and bagged five black bins full of hotel and beauty miniatures, donated through the charity's collection bins, which are sited throughout town.
The haul, which was collected in just a couple of months, has been collated into 207 beauty bags which are being handed out to women helped by the charities supported by Bare Necessities Toiletry Bank.
These include three food banks; Foodfriend at St Bartholomew's Parish Church in Wilmslow, The Red Bin at St Philip and St James' Parish Church in Alderley Edge and Hope Central at St Chad's in Handforth.
It also supports The Wellspring Stockport, Smartworks Greater Manchester, Stockport Without Abuse Women's Aid Refuge and The Riverside Accommodation Project Wilmslow.
Commenting on the impact the bags have, Karen Roberts, Lead Manager at Smartworks Greater Manchester said; "The work you are doing is so impressive and we have the privilege of seeing what a difference the bags make at first hand. We know the women we see absolutely LOVE receiving these wonderful luxuries and that they are such an asset to the service we provide."
Wendy Hobson of Bare Necessities Toiletry Bank said "We try to keep everything as local as possible, focusing on helping people in financial crisis in our community. We have recently included St Philip & St James Church in Alderley Edge red bin scheme to our list and are starting to ask businesses in the village to support us. We installed our first charity bin at Alderley Edge Cricket Club last month.
"We are at a point now where we need to raise awareness on a broader basis to encourage the bins we have in place to be even better supported and to explain what happens to the donations we get. The feedback we have, is that generally there is surprise that in an ostensibly prosperous area hygiene poverty exists."
Bare Necessities Toiletry Bank needs all full-size, everyday toiletries, feminine hygiene products, dental and baby products as well as hotel and beauty miniatures. The only proviso is that they must be unopened and unused.
Email for further information about how to donate or volunteer for Bare Necessities.