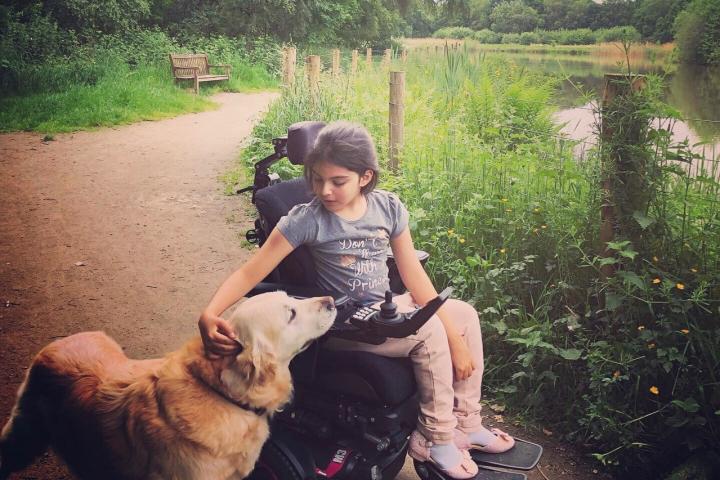 The parents of 9-year-old girl from Wilmslow have been left devastated after learning that their daughter might not qualify for a drug which could significantly improve her quality of life.
Fifi Basma, who attends Lacey Green Primary School, was diagnosed on her 3rd birthday with the rare and debilitating genetic disorder Spinal Muscular Atrophy (SMA).
Fifi is desperate to walk in her sparkly pink shoes but the disease means her muscle strength is continuing to deteriorate and she is no longer able to walk as her legs are too weak to carry her.
On May 15th 2019 the NHS announced that children living with SMA could now benefit from a new drug called Spinraza which had been approved by the health watchdog NICE, meaning patients with Muscular Atrophy would be able to receive the treatment on the NHS.
Speaking at the time, Simon Stevens, NHS England Chief Executive, said "This promising treatment has the potential to be life changing for children and their families.
"The NHS has now reached one of the most comprehensive deals in the world, which allows us to assess real-world evidence of its long term benefits.
"This latest deal coming on the heels of a number of other recent successful negotiations demonstrates that there is no reason for other companies not to show equivalent flexibility in order to benefit NHS patients, taxpayers and indeed themselves."
Meindert Boysen, Director of the Centre for Health Technology Evaluation at NICE added "We are very pleased that we can now recommend Spinraza for people with SMA. The committee has recognised that Spinraza is a promising treatment that has been shown to improve a range of outcomes important to patients. But it also recognised that there are significant uncertainties, particularly around its long-term benefits.
"All along we have felt it important to give all parties every opportunity to try to find a way to mitigate these uncertainties in order to make Spinraza available to patients in England."
However, the following month NICE updated their criteria, meaning some patients who need it, might no longer be eligible for a treatment. Fifi is amongst the 15% of SMA sufferers who could be excluded.
Fifi's mother Sara told wilmslow.co.uk "If you are type 3 but can't walk 5 steps unaided then you can't get treatment. SMA is a muscle wasting disease! Last year my daughter Fifi could walk 5 steps unaided but they've taken so long to approve Spinraza in the UK that in the meantime Fifi has been deteriorating.
"They gave us hope of her having some independence and some decent quality of life but have now decided to take that hope away. This means that Fifi will continue to deteriorate every day. She may not even have the use of her arms one day. Without Spinraza she and all the other SMA children that have been excluded have no hope of stopping this muscle wasting disease from robbing them of their independence."
The drug is already available in many countries, including on the NHS in Scotland, but it has been considered too expensive to be provided by the NHS here as it potentially costs hundreds of thousands of pounds per year.
Sara added "They say one reason is because of the cost of the drug. Surely the SMA children will cost the NHS more if they continue to deteriorate and have no independence. They will need 24 hour care and support and may need hospitalisation. It will end up costing the NHS more.
"For me and Fifi we will continue to campaign and fight for Spinraza for all. We will not allow this inhumane treatment."