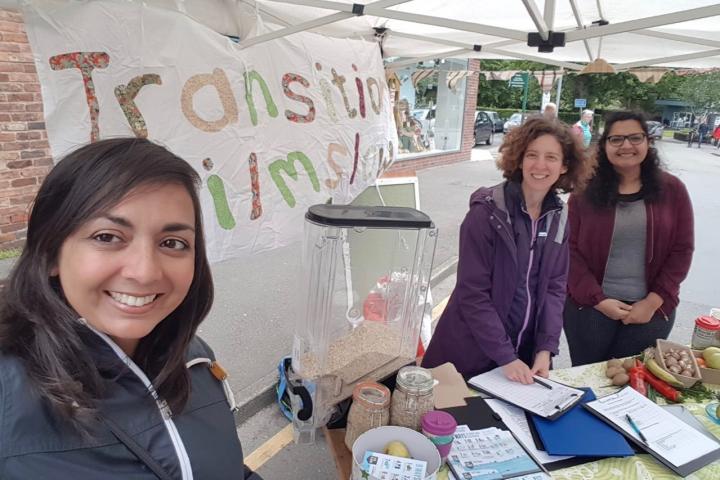 Transition Wilmslow volunteers joined together with the Plastic Free Wilmslow group and the town's community shop group to conduct a mini survey at this month's Artisan Market to gauge if there was an appetite for a new sustainable local shop in the town.
Since late 2018 a group of enthusiasts have been looking at ways to develop and open a new community led shop in Wilmslow. The Facebook group for the initiative has over 400 members and meetings have drawn over 100 attendees.
Florence Collier said "On Saturday we offered information on how to reduce plastic in our lives based on advice from Surfers against Sewage and the BBC programme War on Plastic.
"At the stall market goers were asked some questions about their shopping habits, over four-fifths said they would be likely to change their habits and buy sustainable groceries.
"The response suggests that a community shop offering organic, locally-sourced, loose food, primarily fruit and vegetables, is desirable. This offering would also include fresh organic bread, local preserves and toiletries.
"Feedback from the survey and community shop members is that they would love a locally owned and locally sourced business. Somewhere to fill up their own containers and buy food without plastic packaging, ideally from a central and convenient location with a friendly and relaxed feel.
"In the last six months the group has identified lots of potential shoppers, plenty of people who would appreciate a new hub for a large variety of community activities and volunteers who would ease the staffing of the shop.
"The community group is buzzing yet there is no shop keeper to lead the project to the next level."
The group have been working to find different ways of to steer this project and one possibility they are considering is to use Bank Square (a historic market) as a possible venue for a pop-up shop.
Florence added "One in ten of those we spoke to are already buying their food in less conventional ways, some are part of food buying clubs, sourcing organic bulk foods which can be distributed with minimal packaging, some use veg box deliveries for organic food with minimal packaging, whilst others are waiting for the supermarkets to change their ways.
"If you would like to help make a new shop happen, if you would like to run the shop, if you know of a reasonably priced shop location, if you would like to join in the buying group or like to learn more about any of the topics then check out Facebook: The Wilmslow Community Shop.
"The survey had 30 respondents and is unlikely to be wholly representative of Wilmslow residents or all Artisan Market shoppers."