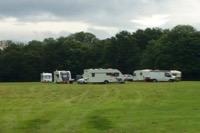 A group of travellers have set up camp next to the car park at Twinnies Bridge.
The travellers arrived on Thursday, 20th June, where they have parked seven caravans in the field between the car park and the foot/cycle bridge.
A spokesperson for Cheshire East Council said: "The council was made aware that an unauthorised encampment of seven caravans and associated vehicles arrived on the evening of 20 June. Cheshire and Warrington Traveller team has visited and carried out welfare assessments.
"A section 77 order has been served, asking the group to leave by 2pm on Tuesday 25 June 2019. Any failure to do so will lead to enforcement action via the courts."