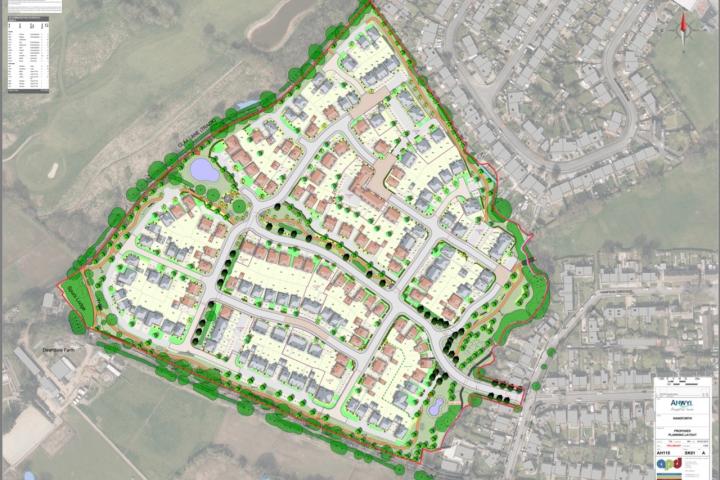 A reserved matters planning application has been submitted to Cheshire East Council for a residential development a parcel of land off Meriton Road in Handforth. (between Clay Lane and Sagars Road) in Handforth.
Anwyl Homes has recently acquired the site 8.35 hectare between Clay Lane and Sagars Road and applied for reserved matters approval (appearance, landscaping, layout and scale) for the erection of 217 dwellings, landscaping, public open space, internal access roads, garages, car parking, and associated infrastructure.
The site was removed from the Green Belt and allocated for residential development of around 250 home in the Cheshire East Local Plan Strategy.
Outline planning permission for the residential development of up to 250 dwellings with 30% affordable was approved in 2018 (ref. 17/3894M) as well as access to the site from Meriton Road / Hampson Crescent following the demolition of 15 Hampson Crescent. All other matters were 'reserved' for future approval.
A separate planning application for the demolition of 15 Hampson Crescent, creation of the site access road, the diversion and culverting of Dobbin Brook and the creation of a temporary construction haul road was submitted to CEC on 5 April 2019 and is currently under consideration (ref. 19/1797M).
The development will comprise of 217 dwellings with associated car parking, garages, private gardens, internal highway network and areas of landscaped public open space. 30% of the dwellings proposed (i.e. 65 dwellings) will be provided as affordable housing.
There will be 19 different house types with a range of one, two, three, four and five bedroom detached, semi-detached houses as well as apartments. The affordable homes are positioned across the site and are provided in the form of both apartments and houses.
The reserved matters planning application can be viewed on Cheshire East Council's planning portal by searching for planning reference 19/2202M.
Tags: