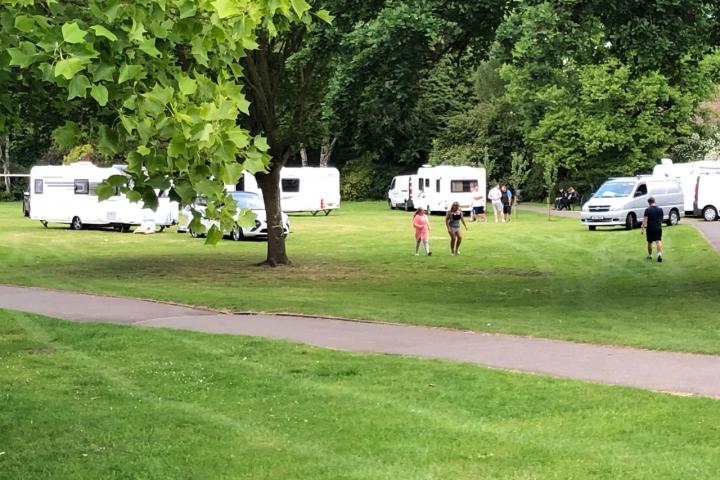 Travellers who set up camp on a Council owned sports field at Wilmslow Leisure Centre have vacated the site which has been cleaned and tidied ready for this weekend's fixtures.
A group of 10 caravans and associated vehicles arrived on the cricket pitch yesterday evening, where three matches are taking place this weekend.
A spokesperson for Cheshire East Council said: "The council was made aware of an unauthorised encampment of 10 caravans and associated vehicles that arrived yesterday evening. Cheshire and Warrington Traveller team has visited and carried out welfare assessments.
"Cheshire police are using their powers to move the encampment on, due to several cricket matches happening at that site this weekend. The families will be given until 8pm today to move. If they fail to leave, the police will enforce the order under section 61 of the Criminal Justice and Public Order Act 1994."
The group ravellers arrived in Alderley Edge Park on Friday evening, driving their vehicles in to the park to set up camp whilst it was busy with children playing and people enjoying the fine weather.
Having vacated the site the families travelled just down the road to set up camp in Alderley Edge Park.
A spokesperson for Alderley Edge Parish Council said "Once aware of the settlement on Alderley Edge Park, the Parish Council ensured Cheshire East Council and the police were aware of the travellers' arrival.
"The police are led to believe the travellers will move on Sunday. Councillor Craig Browne has also notified the appropriate departments within Cheshire East."
Councillor Craig Browne attended the park on Friday evening, soon after the travellers arrived, and again this morning. On both occasions the police were present, monitoring the situation.
He explained "The procedure with traveller encampments is that the police create an incident code and then put actions in place to ensure an efficient and effective multi-agency response. A referral is then made to the Council's Gypsy and Traveller Service, who will visit the next working day to carry out the necessary checks and start any actions required by the Council.
"The Police have the relevant powers to manage any encampments out of hours, if damage is being caused to the land, or threatening or abusive behaviour is being used. Cheshire East Council legal processes are initiated on the next available working day, which involves the Council serving a Section 77 notice under the Criminal Justice & Public Order Act (1994)."