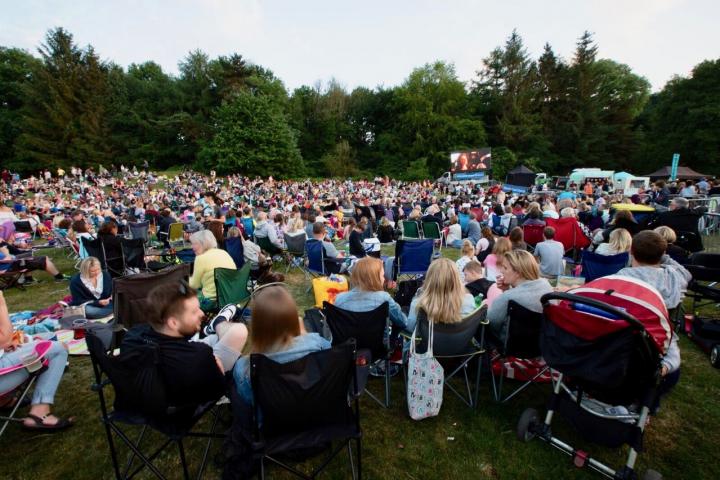 Following the most successful event to date in 2018, with record attendances for both the afternoon and evening features, Cinema on the Carrs is returning in just over two weeks time.
Wilmslow Town Council first introduced the Cinema on the Carrs concept in 2015 when Mamma Mia proved hugely popular with the crowd, some of whom donned their best ABBA outfits and were singing and dancing throughout.
Four years on and 'Here We Go Again' on Saturday, 8th June.
Once again Wilmslow Town Council will fund and organise the community summer event which, as in previous years, will be free to attend and allow friends, family and neighbours to gather and enjoy the films together in the natural setting the Carrs Park.
The event will start at noon when children's rides, entertainment and the food court will open.
The highlight of the afternoon will be the showing of 'The Incredibles' on the big screen at 2pm and also feature ongoing children's entertainment culminating in the annual Duck Race on the Bollin, organised by the Girl Guides, after the conclusion of the afternoon film.
And Here We Go Again for the main evening event as for a second time the Carrs will rock to the sounds of ABBA, when the 2018 sequel to the original Mamma Mia movie will be shown on the big screen as darkness falls. The evening's entertainment will start to build from 6pm when residents can enjoy the food court and music on the big screen prior to the film starting at 8pm.
Chairman Martin Watkins said "Last year the event was hugely supported and enjoyed, indeed the numbers attending last year has led us to needing to upgrade the sound system, the screen size and the layout for this year. One of the best things about Cinema on the Carrs every year is friends and neighbours getting together to have a great time.
"We can guarantee that those attending in 2019 will have a thoroughly enjoyable day however what we can't guarantee is the weather so I would encourage all to get the date in the diary and to make plans to enjoy the day come rain or shine, whilst the council pray for the latter."
Tags: