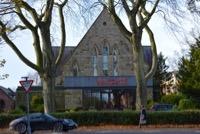 Wilmslow United Reformed Church are delighted to welcome back the John Rotherham Jazz Trio of piano, drummer and bass For their May lunchtime concert
The trio, who previously visited in November 2015, will perform an hour long concert on Thursday, 9th May will start at 12 noon with complimentary coffee available from 11.15.
The programme will include works by George Gershwin ("Let's call the whole thing off"), (Cole Porter )"Dream Dancing"), Alexander Borodin ("Baubles, Bangles and Beads" from the Musical "Kismet"), as well as a number of other favourites including "Makin' Whoopee" and "A nightingale Sang in Berkeley Square".
Ex Director of Music Cliff Crewe said "When the John Rotherham Trio came in 2015 we had one of our biggest audiences, only exceeded by the visit by students at the Chetham's School Opera Group. The trio's May visit promises to be an outstanding hour of musical pleasure."
Tickets are available from the Church office on on Chapel Lane on weekday mornings (01625, 532600) or at the door on the day.