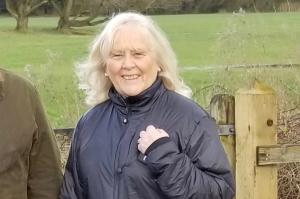 In the run up to the local elections on May 2nd I have been publishing brief interviews with each of the candidates - standing for seats on both the Town Council and Cheshire East Council - that respond to my request, in the order in which they respond.
To read interviews with other candidates you will be able to click on the tags at the bottom of the article. For example, pieces on the other candidates for the Wilmslow Town Council election will all be tagged 'Wilmslow Town Council 2019 Election'. Candidates representing the same party or group will also be connected via the tags, candidates competing in the same ward will be connected by tags as well and all articles will be tagged '2019 Local Elections'.
Ellie Brooks is a Conservative Party candidate for the Wilmslow West ward on Cheshire East Council.
Ellie has lived in Wilmslow for the last 31 years with her husband John and their daughter who was born here. She previously worked as an airline manager for a large European airline and in her spare time enjoys catching up with family and friends, walking, reading and travel.
Are you a member of any local groups or societies?
I am an active member of our wonderful 'In Bloom' team, last year winning Best Town in the North West and we are now in the Nationals – a huge achievement for Wilmslow by very hard working residents led by Local Area Partnership Chair Ruth Menlove. Volunteers always welcome! Green fingers not necessary!
I am also a member of The Lindow Common Advisory Group and attend meetings with Paul Hughes its dedicated Ranger.
Why have you decided to stand for re-election as a ward councillor?
Wilmslow is the town I chose to move to 31 years ago and for me supporting local residents is always my aim. By speaking too many of you (Gary and I have called on 90% of houses in Wilmslow West and Chorley this last year and we are still doorstepping) we understand that 'small things matter' as well as those that make the headlines. Making sure Wilmslow is well represented on CE and gets its fair share of resources is important and fighting its corner is ongoing. I am retired so can devote plenty of time to helping with residents problems, attending Council, committees, and meetings.
Being made CE Heritage Champion 3 years ago has been rewarding and fits in with my feel for our natural resources.
What do you think has been your biggest achievements as a councillor in the last 4 years?
By talking to our residents Gary and I identified the looming parking problem some time ago and worked hard with our Conservative colleagues meeting regularly to force updates and 'get things moving'. We have tirelessly campaigned for a multi storey on Broadway Meadow as we cannot hope to solve parking problems without more provision.
Challenging unwise planning decisions on Northern Planning, such as sub division on Pownall Park, which has now been comprehensively stopped, supported by the planning inspectorate.
Fighting for Wilmslow's fair share of funding.
Working with Transition Wilmslow and Wilmslow Town Council, to stop the digging on Lindow Moss. We must always try and preserve our natural resources.
Supporting local groups who aim to improve Wilmslow's move to more environmentally friendly ways.
Supporting Engine of the North who were successfully awarded Government infrastructure funding for Cheshire East (£41.7m to date). Thinking big is no small thing.
What has been your biggest disappointment as a councillor in the past 4 years?
Without a doubt the time it takes to cross T's and dot I's. Its very frustrating as I like to work at a much faster pace. However I also understand that it is important to be mindful of the tax payers money.
What do you consider to be the important issues facing Wilmslow?
Parking – The review has now been completed and results awaited
Housing – no large scale building in Wilmslow West & Chorley. Fields in Morley Green and Chorley now safe until at least 2045
Shops – Thankfully the Cinema seems to be causing a 'revival' with shops re-opening
Speeding – measures in place at Morley Green, one of the worse cases, to try and address this ongoing problem ('cleat' for speeding van, SID's, new 30mph signage)
Environment – Gary and I support CE's 'carbon neutral' by 2025
Plastics – I support both CE and Transition Wilmslow's campaigns to rid CE and Wilmslow of single use plastic
Supporting local MP's in their bid to get better funding for health and our schools.
What experience and personal qualities will you bring to the role?
I am a practical person, hands on, and have never shied away from hard work. There are always challenges to be met but working with individual residents and groups, and, importantly, listening to what they have to say, has helped achieve good outcomes. I have previously managed a large team and have always worked in a 'team' environment.
Why should Wilmslow residents re-elect you?
I have been a town and borough councillor over the last 8 years. I hope residents will see visible improvements to our town in that time. Over the years Gary and I have spoken to many of you, investigating and bring to a successful conclusion many issues that you have raised. We welcome your feedback. Should you decide to elect me on May 2nd I would be honoured to represent Wilmslow West & Chorley for the next 4 years.