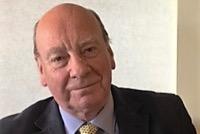 In the run up to the local elections on May 2nd I have been publishing brief interviews with each of the candidates - standing for seats on both the Town Council and Cheshire East Council - that respond to my request, in the order in which they respond.
To read interviews with other candidates you will be able to click on the tags at the bottom of the article. For example, pieces on the other candidates for the Wilmslow Town Council election will all be tagged 'Wilmslow Town Council 2019 Election'. Candidates representing the same party or group will also be connected via the tags, candidates competing in the same ward will be connected by tags as well and all articles will be tagged '2019 Local Elections'.
Martin Watkins is standing as a Conservative Party candidate for the Dean Row Ward on Wilmslow Town Council.
Martin has lived in Wilmslow for over 20 years. He is married to Carol, a psychotherapist, and they have five children and 13 grandchildren.
He is retired having spent a career in the armed forces, principally the Royal Air Force before retiring 25 years ago. He then ran his own business in rural North Wales and subsequently worked for the Royal British Legion in Greater Manchester for ten years where he was responsible for the provision of welfare, the Poppy Appeal, membership and the running of branches and clubs.
Martin told me "I have been involved in many interests since being a Trustee for two local branches of the Royal Air Forces Association, the Vice President of the Northern Area of the Royal Air Forces Association and a Trustee of the National Charity. I am the current Chairman and Trustee of the Wilmslow Aid Trust which seeks to support vulnerable adults and young people who live in what was the old Wilmslow Urban District Council boundaries. I sit as an advisory member and supporter of the Colshaw Estate Tenants and Residents Association. When I get time, I enjoy fishing, travel, music and singing where I can be found at Christmas, with a mate, singing carol duets at St Mary's in the Market Place, Stockport.
"For all these reasons, I reckon "retired" is a misnomer – I would prefer to say, "not in paid employment". (Wilmslow Town Councillors are not paid)."
How long have you been a councillor? Why have you decided to stand for re-election as a councillor for Wilmslow?
I have been a Wilmslow Town Councillor since the inception of the Council in 2011. I have been its Chairman for four years out of the last five which I may add has been a considerable honour. This role brings you into contact with many, many people and local businesses be they in Wilmslow, Cheshire East or the wider community. I hope that I have listened attentively to what is said to me for it is not a case of whether I agree or not, but more do I believe these voices are being adequately heard? And, realistically, what can I do about things? I hope my experiences of the last eight years will be of use to the incoming council.
What do you think have been your biggest achievements as a councillor in the past 4 years?
The biggest achievements have been the Council's not mine. Top of that list must be the toilet block on the Carrs especially given that Cheshire East had "no political will" to provide it themselves. The process of getting that toilet block built, the permissions needed and to persuade Cheshire East to engage, was a steep learning curve for us all and a real eye-opener. Add to this list was the Council facilitating and encouraging the reopening of the Rex Cinema which included being prepared to fund a not insubstantial amount of funds had the need been necessary.
Fortunately, the reopening of the Rex was considerably less frustrating than getting a toilet block! There have been other success stories quietly going on. The Citizens Advice (Bureau) which originated in Wilmslow had, by 2011, long since gone when Cheshire East funding was withdrawn. Wilmslow Town Council reinstated and enhanced that funding and Citizens Advice now operates from the Library, URC and St Bart's. Citizens Advice also refer clients to the food banks who themselves receive funding from WTC.
No-one likes putting their head above the parapet and talking about using the services of either Citizens Advice or the food banks, but the stats speak for themselves – there are citizens of our town in need; we heard, we funded. Lastly, I want to mention the Wilmslow Neighbourhood Plan. We should be proud and particularly thankful that some two dozen individuals of our town volunteered a lot of their time over more than three years to produce what is acknowledged to be an outstanding document on how we wish to see our town develop over the next decades. If you have not read this Plan, please do so for the Town Council will be developing it as we, the town, move forward.
What have been your biggest disappointments as a councillor in the past four 4 years?
I should like to mention a couple of points. Firstly, parking and much has been said about this elsewhere already. I very much regret that I felt it necessary to tell the leader of our Unitary Authority that when it came to parking, the message I was getting was that the citizens of our town (not to mention the businesses located here) did not believe a word her council had to say on the subject because of promises made, never kept and broken. To me, parking is to Wilmslow what Brexit is to our country as the chances of getting any of us to remotely agree is difficult.
However, it really does divert attention if we get bogged down on who thinks yellow lines should be put down where and when. We need workable solutions, short, medium and long term and we need them across the board. We may not like it and probably would never follow the path taken by Cheshire East ourselves. They played us the card, which we are unable to refuse, of a public consultation which, despite sceptics, has taken place in public with a visible input from the public (not to forget either the 54+ business companies large and small who joined in). When did you last see a public consultation held in Wilmslow? And the trump card we may just be holding is a growing realisation by Cheshire East that town and parish councils can, and will, answer back.
My second disappointment must be levelled at the media. I am disappointed that little publicity is given to the grant applications made by local organisations who are trying to make a real difference to our Wilmslow community. There is no better example of this than the recent grant (details on the WTC web page) to Wilmslow Youth. They asked for a small grant to address youth mental health issues. They were supported by Churches Together and the High School. For those of us who heard the enthusiasm and commitment of the individuals who made the presentation (and these applications are open to the public to attend and hear), you could not fail to be anything other than mightily impressed – but who knows about it?
What do you think the important issues facing Wilmslow?
Without doubt, top of the list must be the implementation of our Neighbourhood Plan. This is where you and I need to roll up our sleeves and get involved just like the two dozen citizens have done for the last three years. We need to attract private funding given that Cheshire East own virtually no property in Wilmslow.
We need to persuade Cheshire East that perhaps there are some things we can do as well, if not better, than they can so they need to pass services over to us. This will help get over the widespread feeling that Wilmslow is ignored. The statement I have often heard is why should a Councillor in Crewe be in the slightest bit interested in spending money in Wilmslow if it means less money for his ward?
What experience and personal qualities will you bring to the role?
I hope that my many experiences around the world, with different people and cultures explains why I have a caring nature. I have tried to bring that caring experience to my work both as councillor but also to the charities I belong to; I do care about parking in Wilmslow; I do care about our green belt; I do care about how our town develops but over everything I care about people. I care more about people than anything else but that also means I must be fair. I hope my fellow councillors will agree that is what I have attempted to do.