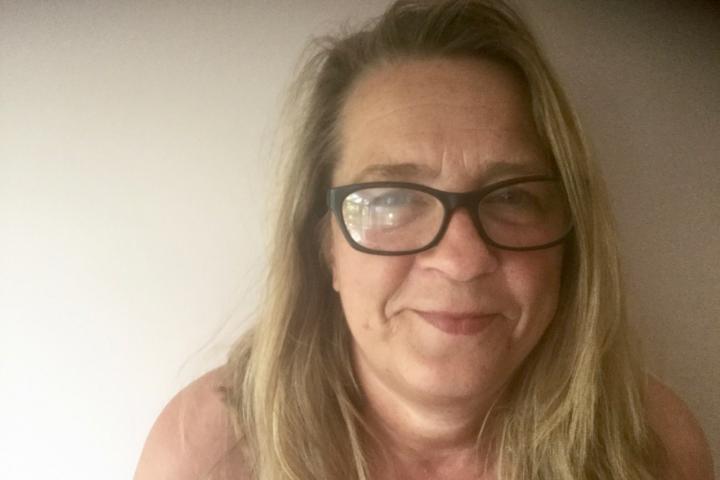 In the run up to the local elections on May 2nd I am publishing brief interviews with each of the candidates - standing for seats on both the Town Council and Cheshire East Council - that respond to my request, in the order in which they respond.
To read interviews with other candidates you will be able to click on the tags at the bottom of the article. For example, pieces on the other candidates for the Wilmslow Town Council election will all be tagged 'Wilmslow Town Council 2019 Election'. Candidates representing the same party or group will also be connected via the tags, candidates competing in the same ward will be connected by tags as well and all articles will be tagged '2019 Local Elections'.
Toni Fox is a Residents of Wilmslow candidate for the Dean Row ward on Cheshire East Council.
Toni has lived in the local area – in Alderley Edge, Wilmslow and Handforth – for over 40 years attending Alderley Edge Primary School and then Wilmslow Grammar School for Girls.
She is happily married to Richard with a grown up son (still living at home!) and a couple of dogs.
Toni told me "Having worked most recently as the Office Manager for a local printing company I am now retired and a keen gardener having opened our garden for both the NGS and Wells for Africa. I also like walking our dogs (often picking up litter on the way sadly) and I like reading to relax at the end of a long day."
How long have you been a councillor and are you a member of any local groups or societies?
In 2012 I set up Hands off Handforth Green Belt residents group in opposition to the proposals in the Local Plan for the eradication of the majority of Handforth's Green Belt, becoming a member of Handforth Parish Council in 2014. It was at this time that I began working with Residents of Wilmslow who asked me to be their candidate for Cheshire East Council in the 2015 elections.
Having won that election it has been both a privilege and a pleasure to represent Dean Row residents over the last 4 years.
Alongside working with residents in my ward, and on occasion residents across Wilmslow in other wards, I was a member of CEC's Northern Planning Committee for the first 2 years and am now a member of the Strategic Planning Board which determines major planning applications. I have also been a member of the Public Rights of Way Committee, sat on several working groups, and substituted on a number of other Committees.
What do you think have been your biggest achievements as a councillor in the past 4 years?
I expect my biggest achievement in monetary terms was assisting in "convincing" Cheshire East Council to release some of the New Homes Bonus it has received from the Government to compensate residents for new developments. This is actually in line with Government guidance – "The New Homes Bonus Scheme provides cash for areas that allow new homes to be built in their area. Government funding has been set aside for local councils that welcome new housing development, which they can spend to benefit their local community." Unfortunately, Cheshire East Council has only released a very small fraction (£2M) of what it has received (£35.4M between 2011 to 2017 and ongoing) and is far short of what I believe the Government intended, and, other Councils in the country make available to residents.
My other achievements affecting the largest number of residents was a persistent doggedness in ensuring the Conditions associated with the approval of the Bollin Park development were implemented. Frustratingly it took 3 years of repeated requests, reminders and meetings with Highways and the applicant for the road widening to take place onto the A34 at Summerfields Village - ultimately however this has helped to reduce congestion at peak periods at the roundabout on Dean Row Road leading to the A34. Similarly the long awaited improvements to Browns Lane Recreation Area are now finally at the planning application stage. I had hoped to have seen the finished scheme in place by the end of my current term at the Council however a long waiting list of outstanding projects and drainage issues on the site have contributed towards significant delays.
Helping and working with individual residents on many topics is very rewarding, as is being in a position to explain the complexities of how policies, both the Councils and Governments, affect the decision making process. Whilst I do not personally agree with all current policies, particularly those of Cheshire East Council, this knowledge empowers residents to make informed decisions, particularly when it comes to local elections.
What have been your biggest disappointments as a councillor in the past 4 years?
Without doubt my biggest frustration has been that despite the best efforts of many opposition councillors, 99% of the time 99% of members of the Conservative Party, who currently hold the majority at the Council - and therefore effectively make all the decisions - vote in line with party policies, irrespective of the views of the local residents they represent.
Similarly my biggest disappointment was the approval of the Local Plan by Conservative Councillors at Cheshire East Council when the majority of councillors of both the Independent Group and Labour Party voted against it. Not only has this eradicated large tracts of Green Belt land but Conservative Councillors also voted in the full knowledge that there were no firm proposals, or the finance, to provide the additional infrastructure that was already needed in Wilmslow.
It has been claimed that infrastructure will follow however a working example of how this works can be demonstrated using the Bollin Park development off Adlington Road which was granted planning permission in 2014. It was 2018 before the required road improvements were implemented onto the A34 at Summerfields village and the improvements to Browns Lane Recreation area are still awaited. On last seeking clarification from officers they were unable to confirm if, or on what, the financial contribution made to support Educational needs had been spent.
What do you consider to be the important issues facing Wilmslow?
I think the most important issue facing Wilmslow, and for that matter all towns and villages in the Borough, alongside the lack of infrastructure, is the complete lack of joined up thinking at the Council, and a lack of forward planning, for individual areas. The approval of the Local Plan is a case in point and more recently Wilmslow's parking issues another. I have worked closely with Wilmslow Town Council on this issue as we share the view that insufficient justification has been given for increasing car parking charges (particularly long stay) during the ongoing long overdue parking survey when the car parks in the town already generate a net profit of over £900,000 annually.
Why have you decided to stand for re-election as a ward councillor for Wilmslow?
Good question! Whilst it is hard work it can also be very rewarding, I enjoy meeting people and I enjoy learning. Training at the Council is minimal so to be effective you have to learn about a wide range of subjects and keep up to date on Policies. I also enjoy a challenge so I'm not afraid to ask difficult questions!
What do you hope to achieve and how in the next 4 years?
If re-elected I will continue to work hard for the residents I represent and Wilmslow as whole. Many changes are needed at Cheshire East Council and I will continue to campaign for a more efficient, democratic, open and transparent Council that does not waste tax payers money.
Why should Wilmslow residents vote for you?
As an existing representative, and candidate, of Residents of Wilmslow I am part of the growing Independent Group at Cheshire East Council. Unlike other political parties members of the Independent Group are not whipped to vote in line with party policies – we vote based on the views and the best interests of the residents represent.
If you want to continue to be represented by a councillor that works with you and for you and that will represent your best interests rather than those of a political party, please vote for me.