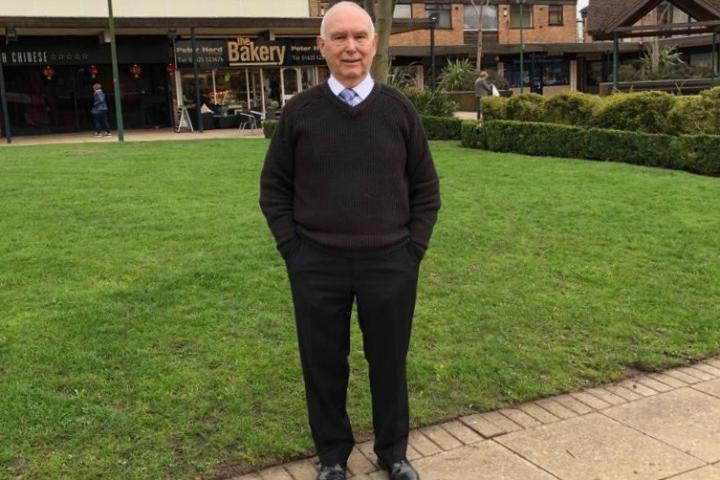 In the run up to the local elections on May 2nd I am publishing brief interviews with each of the candidates - standing for seats on both the Parish Council and Cheshire East Council - that respond to my request, in the order in which they respond.
To read interviews with other candidates you will be able to click on the tags at the bottom of the article. For example, pieces on the other candidates for the Handforth Parish Council election will all be tagged 'Handforth Parish Council 2019 Election'. Candidates representing the same party or group will also be connected via the tags, candidates competing in the same ward will be connected by tags as well and all articles will be tagged '2019 Local Elections'.
David Lonsdale is a Conservative party candidate for the Handforth Ward on Cheshire East Council.
David grew up in Bolton and moved to Wilmslow in 1986, where he lived until 2001. He then moved to Spain for a bit of adventure, returning to Wilmslow in 2009 before moving to Handforth in 2012.He is a retired airline pilot, having flown for 41 years, the last 17 of which were as a Captain on the B747 flying longhaul routes.
Are you a member of any local groups or societies?
As a Christian I have been involved in a number of church activities including Youth Club leader at my church in Bolton. I now attend Poynton Baptist church, where I help with a Mums and Tots group called Playaway.
I went there from a church in Wilmslow because my son started going there on the basis that they have over 50 in their 18 to 30s group. I thought it best to attend the same church.
Why have you decided to stand for election as a ward councillor for Handforth?
Until I retired I could not commit to anything that required consistent involvement. As a long haul pilot the work schedule made it difficult to make forward arrangements beyond the next roster. Now that I am retired I have the time to get involved with issues that are obvious to many in Handforth, such as schools, congestion, building on greenbelt, to name just the major ones.
Have you stood for election before? If so when and for which party?
In 2014 there was a by-election in Hurdsfield. I joined UKIP so that I could stand as a candidate in that seat, not because I thought I would win, in fact the seat was a strong Labour seat and was unwinnable, but because I wanted Cameron to take note of the fact that he faced a challenge in seats up and down the country if he didn't start listening to his base. I have been a lifelong Conservative but I have been increasingly concerned since Maastricht about our sovereignty and democracy being undermined by a Parliament and a Party that seemed happy to sit back whilst the EU made the laws by which we are governed.
What do you consider to be the important issues facing Handforth?
As I have said, the rate of housebuilding is putting pressure on the infrastructure of the village and is simply unsustainable. Families in 4000 houses will require a new High school and Primary school. They will also need extra medical facilities and with 4000 houses we will get 8000 cars. The pressure to build more homes comes from central government and is being applied to every local authority across the country. To cope with the growth in our population the country needs to build a city the size of Nottingham every year. Handforth is feeling the pressure.
If there is to be development, the very least we should ensure is that the houses and the infrastructure are planned together. We should also exhaust the supply of brownfield sites before giving planning permission on greenfield sites. Once a field is concreted over it will never again be a field.
What do you hope to achieve and how in the next 4 years?
I would like to make a difference in the areas of planning, as I have mentioned above.
I have been impressed by the amount of community involvement in Handforth and I would seek to encourage it. We have a youth club with 115 members. As one who was a youth club leader before my work schedules impeded on my spare time, I am well aware of the value that such groups bring to the children who attend. They should be given every support.
Apparently the model railway in Meriton Road park has met with opposition from some of the local councillors and one of our sitting Cheshire East councillors. I think that is most unfortunate as rides on the railway bring a lot of pleasure to local children on a facility that is provided for free. The railway is run by Handforth Model Engineering Society, who do most of their own engineering work in the pavilion. Anyone can join the society, which I would have thought would be of great benefit to any youngsters who wanted to get involved in making things from bare metal under expert supervision. What is there not to like about such a facility?
Our parks are an asset to the village, but they are not all in top condition. I spoke to two ladies on the Colshaw estate who told me that there is a park on the estate that needs some attention from the council. We need to keep on top of the maintenance of our parks otherwise problems as big as acorns soon grow into oak trees.
What experience and personal qualities will you bring to the role?
My experience as an airline pilot does not translate directly into being a councillor, however, the job required an ability to manage fairly complex problems, some expected and some not. It seems to me that an ability to manage is a primary requirement of anyone involved in bringing the needs of a community to fruition.
It is difficult for me to comment on my personal qualities. For such answers you would need to ask the people who know me. My view of myself may not accord with the views that others have of me.
Why should Handforth residents vote for you?
They will read this article and decide for themselves whether or not I am the sort of person they want to represent them on Cheshire East Council.