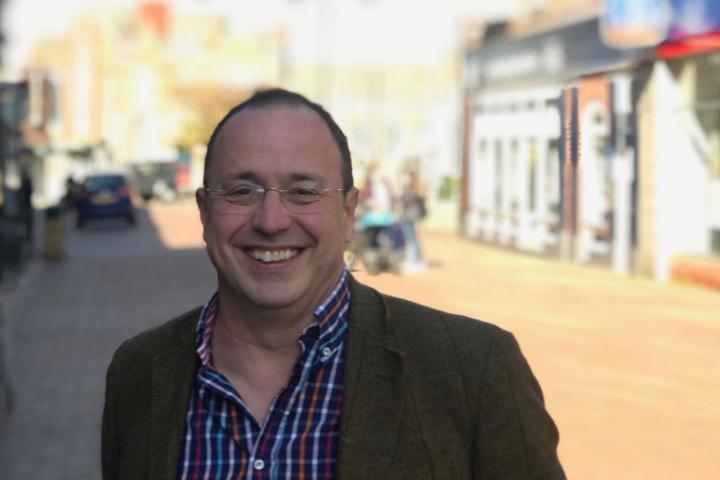 In the run up to the local elections on May 2nd I will be publishing brief interviews with each of the candidates - standing for seats on both the Town Council and Cheshire East Council - that respond to my request, in the order in which they respond.
To read interviews with other candidates you will be able to click on the tags at the bottom of the article. For example, pieces on the other candidates for the Wilmslow Town Council election will all be tagged 'Wilmslow Town Council 2019 Election'. Candidates representing the same party or group will also be connected via the tags, candidates competing in the same ward will be connected by tags as well and all articles will be tagged '2019 Local Elections'.
Oliver Romain is a Liberal Democrat candidate for the Wilmslow West ward on both Wilmslow Town Council and Cheshire East Council.
Please tell me about yourself - occupation, how long you have lived in Wilmslow, interests, family?
Firstly, thank you for the interview invitation. I recognise the important role that Wilmslow.co.uk and your readers play in local democracy, so I am delighted to be involved.
I have lived in Wilmslow Town Centre for over fifteen years after moving here from Stockport. I am 49 years old and married my wife, Janet, in Wilmslow shortly after moving here. We are proud parents of two sons Arthur (9) nine and Isaac (2).
When our boys and work are not keeping me busy, I have found it hugely rewarding to volunteer locally including an enjoyable role as 'Reading Buddy' at Gorsey Bank School and also in founding Wilmslow Freecycle.
In my spare time I enjoy having adventures with my young family, gardening, cooking, keeping fit and making preserves. I am also involved with Space4Autism in Macclesfield where we have a lot of fun as a family.
Workwise, I run a successful local independent mail order business. Business is seasonal and allows me to spend time with my family and also, if I am elected, to accommodate councillor roles.
It is no secret that I am also involved in campaigning for a People's Vote to ensure that people are given a real choice over their future in Europe. Brexit is an emotive subject but one that I aim to approach with respect and dignity.
Why have you decided to stand for election as a parish councillor and ward councillor for Wilmslow?
People in Wilmslow have had years of being let down by the Tories. I was shocked when I learned Cllr Barton only attends half the council meetings he should and Cllr Brooks only 8/10 meetings.
People are frustrated and want to shake things up. People who want an alternative have a choice between the hard-right politics of Residents of Wilmslow or a progressive team of Liberal Democrats who care about local people and share many of their values.
I have decided to stand to ensure that people are given the choice of candidates from an established and professional political party with clear aims and values and a proven track record in local government.
Have you stood for election before? If so when and for which party?
I have been involved with the Liberal Democrats as a member and in election campaigns for over twenty years. I have decided to team up with Birgitta Hoffmann as candidate for the Wilmslow West and Chorley Borough Ward and also the Wilmslow West Town Ward. We are the only candidate team to both live in the borough ward.
What do you consider to be the important issues facing Wilmslow?
Wilmslow is a great place to live and work, but it could be so much better.
Badly thought out development has led to impossible parking situation making our retail offering less attractive to visitors.
Schools and surgeries are facing cuts despite large-scale development. We need intelligent solutions to Wilmslow's increased population, not indiscriminate development and cut services.
Parking is a major issue. The Tory's parking review is an expensive way of kicking the issue into the long grass - people want action.
Living in Wilmslow with a young family it is often obvious where improvements can be made for families. For example, our play parks are an embarrassment compared to neighbouring towns. Our local parks are acceptable for very young children but there is little or nothing for older children and young teens.
Dog fouling is also an ongoing problem. We will help people to identify hot spots for enforcement, signage and installing dog dirt bins.
Wilmslow's retailers, both in the town centre and Chapel Lane, need serious support. A major infrastructure plan is needed, including investment in town centre parking, improved pedestrian space and traffic management.
Macclesfield's town centre redevelopment plan has been mothballed for years under the Tories. We cannot let the same happen to Wilmslow.
What do you hope to achieve and how in the next 4 years?
I want to shake things up and challenge the complacency that has pervaded local politics for years.
I have successfully campaigned to improve transparency in the awarding of Town Council grants. Next, I aim to ensure that conflicts of interest are properly declared and the practice of councillors voting to fund their own projects is ended. This will be unpopular with some councillors, however, it's not their money and it is vital that people are confident that their taxes are spent lawfully.
I will campaign for effective and targeted parking enforcement around local problem parking hotspots and for a ban on pavement parking. I will demand improved road markings and repairs so, for example, the zebra crossing on Hawthorn Lane is repaired and made legal after years of neglect before someone is injured or killed.
I will work to reinstate our Town Centre Public Toilets and for them to be made fully accessible including a Changing Places facility for users who require a bench and hoist.
I will fight the Tory supported plans to build a large commuter car park within the Hawthorn Lane Conservation Area.
As a councillor, I will be focused on making a difference for local people. Listening to people's concerns, paying attention to detail and ensuring Wilmslow is a priority for policing, housing, education, health and highways.
I have a positive outlook and work ethic. I know everybody wants a better Wilmslow and by communicating and working with people and community groups so we can make Wilmslow better.
What experience and personal qualities will you bring to the role?
Readers of wilmslow.co.uk will already know that I am not afraid to speak up and that I aim to challenge in a constructive way and occasionally with a sense of fun. I am independent minded, have good attention to detail and am pragmatic. I will support projects and policies that work for Wilmslow regardless of the politics.
I have a young family and understand the challenges local families face. I also bring extensive business experience to the role. I relish a challenge and I am pragmatic. Birgitta and I share values but bring different qualities, we work well as a team and will deliver tangible results.
Why should Wilmslow residents vote for you?
People are fed up of the Tories stranglehold and want hard-working candidates who demand better for Wilmslow. If you want truly local candidates with positive aims, shared values and a vision for Wilmslow - Demand Better - vote Romain and Hoffmann on May 2nd.