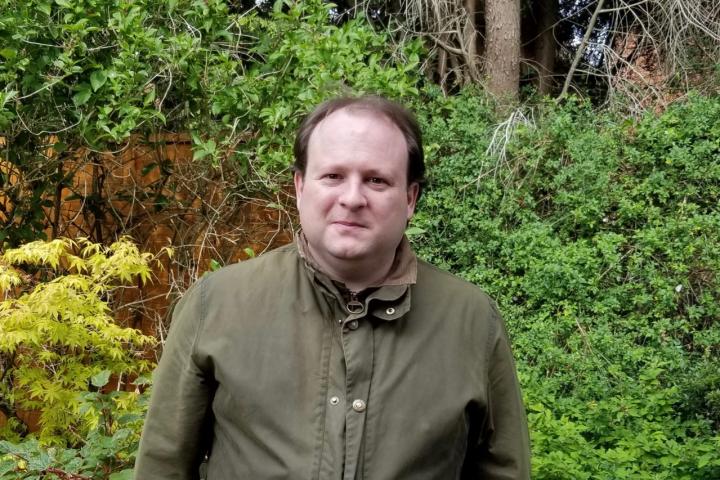 In the run up to the local elections on May 2nd I will be publishing brief interviews with each of the candidates - standing for seats on both the Town Council and Cheshire East Council - that respond to my request, in the order in which they respond.
To read interviews with other candidates you will be able to click on the tags at the bottom of the article. For example, pieces on the other candidates for the Wilmslow Town Council election will all be tagged 'Wilmslow Town Council 2019 Election'. Candidates representing the same party or group will also be connected via the tags, candidates competing in the same ward will be connected by tags as well and all articles will be tagged '2019 Local Elections'.
Gary Barton is a Conservative Party candidate for the Wilmslow West ward on both Wilmslow Town Council and Cheshire East Council.
Gary has lived in Wilmslow since hiss family moved here 1984 when he was 21 months old. He went to Ashdene County Primary, Manchester Grammar School, and then on to the University of Manchester. He works as an industry analyst within the telecommunications industry.
He told me "I still have an interest in history and visit battlefields and ancient sites whenever I can, and I enjoy gardening when I have time. I am a life long Manchester United fan and a season ticket holder at Old Trafford. I am a keen reader and cinema goer, so I am very much enjoying have the Rex back open in Wilmslow."
Are you a member of any local groups or societies?
I have previously been a Cub Scout leader at 4th Wilmslow Cubs and a Governor at Ashdene. I am now starting to become involved with the Friends of Wilmslow station group and I have promised to help Ellie and Julie with their Wilmslow in Bloom efforts over the summer.
Why have you decided to stand for re-election as a parish councillor and ward councillor for Wilmslow?
Wilmslow is my home town and being in the position to fight for Wilmslow and to support our town means a lot to me. As the national political scene has become fraught, it has reminded how much of what matter to us on a daily basis happens locally and is decided locally. I very much want to continue and finish the work that Ellie and I have started with the parking review. I also want to work with Cheshire East and the Town Council to support our town centre, not just on Grove Street and Alderley Road, but in areas such as Chapel Lane.
How long have you been a councillor?
I was first elected to Macclesfield Borough Council in 2007 and then to Cheshire East in 2008.
What do you think have been your biggest achievements as a councillor in the past 4 years?
Getting the funding for the parking review and seeing the process begin and the consultation take place has been very important. The success of local businesses is great, but Wilmslow needs a plan in place to deal with the knock-on effects. I am proud that Ellie and I were able to ensure that no major Green Belt developments have been allowed in Wilmslow West and Chorley and of the work we both did finding a solution to the peat extraction at Lindow Moss.
What have been your biggest disappointments as a councillor in the past 4 years?
I was disappointed that it took too long to start the parking review process. But I am grateful for residents' patience and understanding and glad that Highways recognised the importance of finding long-term solutions to the problem and that the process for putting yellow lines on Alderley Road has now begun. I would also like to see central government do more to support local communities: e.g., by reducing rates for high street businesses and releasing more money for infrastructure development.
What do you consider to be the important issues facing Wilmslow?
Parking, planning/protecting the green belt, improving the town centre, and improving local infrastructure are what I see as the main priorities for Wilmslow.
What do you hope to achieve and how in the next 4 years?
Finishing the parking review is the first priority because roads such as Alderley Road, Knutsford Road, Buckingham Road, Bourne Street Westward Road, and various others across the town need action taking to improve safety and to make life easier for local residents. Work needs to continue to improve local roads and pavements. Moor Lane, Gravel Lane, Nursery Lane, and Chapel Lane have all had work done recently, but there is much more that needs doing. I also think that the Neighbourhood Plan will play an important roll in revitalising the town centre and I want to support that process.
What experience and personal qualities will you bring to the role?
My time as a councillor has given me the experience of who talk to and how to get things done in local politics. Budgets are tight and resources are limited, and it is not easy making sure that Wilmslow's priorities are put first. I also have experience from my day job of working with people and working with large and complicated organisations. Most importantly, working with Ellie over the last four years has seen us build a strong team for Wilmslow West and Chorley.
Why should Wilmslow residents vote for you?
Ellie and I have spent many, many hours knocking on doors, talking to local residents to understand what matters to the people of Wilmslow West and Chorley. We are both Wilmslow people and know the area well. Ellie and I have a track record of working hard for Wilmslow over the last four years. Most residents we have spoken to can also see that we are working to address the local issues that matter most to them – such as parking, protecting the Green Belt, better roads, and improving household recycling collections.