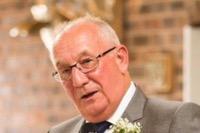 In the run up to the local elections on May 2nd I will be publishing brief interviews with each of the candidates - standing for seats on both the Town Council and Cheshire East Council - that respond to my request, in the order in which they respond.
To read interviews with other candidates you will be able to click on the tags at the bottom of the article. For example, pieces on the other candidates for the Wilmslow Town Council election will all be tagged 'Wilmslow Town Council 2019 Election'. Candidates representing the same party or group will also be connected via the tags, candidates competing in the same ward will be connected by tags as well and all articles will be tagged '2019 Local Elections'.
Jon Newell is standing as a Residents of Wilmslow candidate for election to Wilmslow Town Council in the Dean Row Ward.
Jon is married to Gina and they have three adult children, were educated at Wilmslow High School, and three grandchildren. They have lived in Wilmslow since 1984 on the Summerfields estate.
Jon is a retired Chartered Accountant and he served as an elected council member of the UK body which represents the interests of insolvency and restructuring professionals and continues to serve on the Disciplinary Committee of the Institute of Chartered Accountants. He is also a member of the Industry Advisory Board of Salford University Business School.
Are you a member of any local groups or societies?
I was a member of Bollin Valley Round Table for a number of years but the compulsory retirement under the age rules coincided with the needs of three children needing to be at sports events and musical events. I times I felt I had become a taxi driver.
Have you stood for election before and why have you decided to stand for election as a town councillor for Wilmslow?
I have never stood for election before and I have never been a member of any political party. In truth, I had never taken much notice of local politics.
The turning point came when I took an interest in the closure of the Energie gym and the Lidl development in Summerfields Village. I was a member of the gym and disappointed to see it closed. Out of curiosity, I attended a WTC meeting and a planning meeting in Macclesfield. I was shocked to see how the interests of the local residents were almost completely ignored. Indeed, it was not just the residents who were ignored; the planning committee seemed to be equally ignoring the views of WTC.
Having seen this I came into contact with Residents of Wilmslow and realised I was not seeing an isolated incident of Cheshire East ignoring the interests of local residents. I strongly believe that this is wrong and I decided to what I could, in a small way, to affect change in the future. That is why I am standing.
What do you consider to be the important issues facing Wilmslow?
All the issues, in the end, flow from the impact of housing and office development, both currently and in the future.
Wilmslow is an attractive place to live in itself but also has the advantages of great rail links to Central Manchester and good national and international transport links. We can only expect the developments to continue though their pace may vary.
For Wilmslow to continue to be an attractive place to live, the infrastructure, in its widest, sense, must be developed at the same pace as the developments so that our sense of community is maintained.
The immediate issue is parking - there is an obvious shortage of space for both those working in the town and for those on whom our retail business depend. This has a clear knock on effect on the residential streets within walking distance of the town centre. A particular bug bear of mine is the the parking on pavements - as someone who now pushes grandchildren around on a regular basis, I now realise that I underestimated just how inconsiderate this is.
Parking is the immediate issue but there are others;
The High School is at full capacity and this must be considered in future development decisions. I find it intolerable that locals have to send children on long bus journeys to get to schools in other towns. My eldest daughter teaches at Knutsford Academy and I know that a number of her pupils are bussed in from Wilmslow.
Local medical practices will struggle to cope with an increased population.
Local facilities will become swamped.
Public transport will be challenged. Cuts to public transport budgets means we have the ridiculous situation of needing to encourage public transport use at the same time as services are being cut.
These are issues which cannot be solved by WTC but WTC will be important part of the regional and national decision making which must address the matter.
What do you hope to achieve and how in the next 4 years?
Working with colleagues on WTC, I would hope to drive more open and frequent communication between local residents, as represented by WTC, and Cheshire East. This communication must extend to clear explanations as to why decisions are being taken, especially those which seemingly adversely impact on Wilmslow residents.
I have only attended a small number of WTC meetings as an observer but a common theme has been that CEC feel themselves above WTC - the lack of basic courtesy was remarkable.
The interaction with CEC is a big issue but WTC, within its limited budget, needs to continue to pursue and support smaller local projects such as the excellent toilet development at the Cars and the practical and financial support for the disabled facilities at the Rex cinema. I will look to seek the views of residents as to what projects they would wish to see supported.
What experience and personal qualities will you bring to the role?
I operated as an Insolvency and restructuring professional for many years. Every assignment was different but the common factor was that those who you needed to meet did not want to meet you. I developed the ability to influence others in challenging circumstances and within very limited budgets. I helped them discover what was the least worst alternative rather than an unachievable perfect alternative.
These interpersonal skills are directly transferable to WTC where perfect "solutions" will need to be balanced with budgetary and statutory constraints.
Why should Wilmslow residents vote for you?
In Dean Row Ward there are four WTC councillor posts. I am standing against four Conservative Party candidates - all of whom are existing members of WTC. I have been told that they were elected unopposed four years ago when only four candidates came forward. I think uncontested elections are a bad thing; change is inevitable and entrenched views are potentially unresponsive the change. I believe that I have the skills, commitment and time to make a positive contribution to WTC and to pursue the objectives I have articulated to the benefits of all residents of Wilmslow.