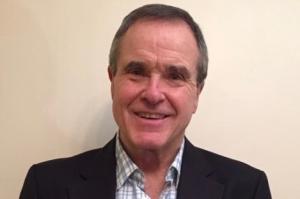 In the run up to the local elections on May 2nd I will be publishing brief interviews with each of the candidates - standing for seats on both the Town Council and Cheshire East Council - that respond to my request, in the order in which they respond.
To read interviews with other candidates you will be able to click on the tags at the bottom of the article. For example, pieces on the other candidates for the Wilmslow Town Council election will all be tagged 'Wilmslow Town Council 2019 Election'. Candidates representing the same party or group will also be connected via the tags, candidates competing in the same ward will be connected by tags as well and all articles will be tagged '2019 Local Elections'.
Iain Macfarlane is a Residents of Wilmslow candidate for the Wilmslow West ward on Cheshire East Council.
Iain has lived in Wilmslow for 20 years and before that he was based in South Manchester. He is married to Pamela and they have three grown-up children.
Iain told me "I joined a London-based exhibition organising company and transferred to their Manchester office, working on all their UK trade shows. I saw a business opportunity and went out on my own, starting up and organising trade exhibitions at major venues throughout the UK. Our catering & licensed trade show which ran for several years at G-MEX Central in Manchester was the largest of its type in the North of England."
He added "I have played most sports all my life and especially enjoy the great camaraderie which is found in rugby clubs. There's nothing quite like a tough game in thick mud on a cold day and a beer afterwards!
"I studied archaeology at university as an "extra" subject as I have always been very interested in the history & lifestyles of past civilisations - now I've packed in rugby we've started visiting English Heritage & National Trust sites which are a fascinating glimpse into the past. Also I'm now just at the right age to do some work in our garden which I do enjoy."
Why have you decided to stand for election to Cheshire East Council?
I became aware of Residents of Wilmslow four or five years ago and liked their policy of protecting Green Belt land from the very real dangers of over-development. I took part in geographical field courses years ago and the problems of urban sprawl are even more pressing nowadays - green belt land is there for a purpose, to improve the quality of life for both urban and rural residents and has to be left untouched if at all possible. I have read about and seen the continual nibbling away of green belt land by developers not just around Wilmslow but all over the country and I very strongly believe that any available brownfield sites should be considered first for development. Of course builders want fresh green fields for houses but there has to be strong opposition to all their demands - Residents of Wilmslow is firmly opposed to building on green belt land and with more councillors on Cheshire East they would make a real difference at Planning meetings and council voting. I hope to be elected and would do my best to keep any future green belt development to a bare minimum in Cheshire East.
As everyone knows the other big problem in Wilmslow is parking. The results of the current parking survey are still to be announced but I carried out my own mini-research into the town's long-term parking problems a few weeks ago at 6.30am one very cold morning. By just after 8.00am every available long-term parking space at Broadway Meadow beside the station, Spring Street off Water Lane and Sainsburys corner car park was taken - many drivers told me that they had to arrive early from miles away to get a space as there was no other way for them to get to work. More long-term facilities have to be found, whether by building another level on Broadway Meadow or creating temporary car parks - the current terrible problems of cars being left all day over most of Wilmslow's roads & streets cannot keep going on but Cheshire East Council just don't seem to come up with sensible suggestions or solutions. The results from the long-awaited parking review will be very interesting and anything creative must be pushed through as soon as possible. Things cannot just be put to one side and forgotten about. Time for some radical new thinking.
Have you been involved in local politics before?
Not directly but I now have the time to get involved. I am enthusiastic, hard working and pride myself on my attention to detail and strict budgeting disciplines.
What do you consider to be the important issues facing Wilmslow?
Wilmslow town centre is suffering as are many town centres all over the country from the closure of shopping outlets but new ideas can make a big difference. The Rex Cinema has been a super addition and is attracting new retail outlets close by who are keen to benefit from the "experiences" that today's shoppers demand. However all the recent house building around Wilmslow has not been balanced with sufficient new infrastructure such as extra school places and better healthcare facilities to cater for a future growing population. Imaginative vision is needed to find answers to these questions.
Why should Wilmslow residents vote for you?
There is no central office telling Residents of Wilmslow councillors what to say, suggest and do, politically we are independent and only exist to improve local facilities and lifestyles. Mark Goldsmith who is also standing with me in Wilmslow West and Toni Fox who represents Dean Row for RoW have already generated considerable sums for the town from the New Homes Bonus Scheme. We just need more councillors for increased local democracy & control to change the balance of power on Cheshire East Council.
If you want change to happen at a local level then you really have to vote for an independent local candidate who won't just follow the party line.