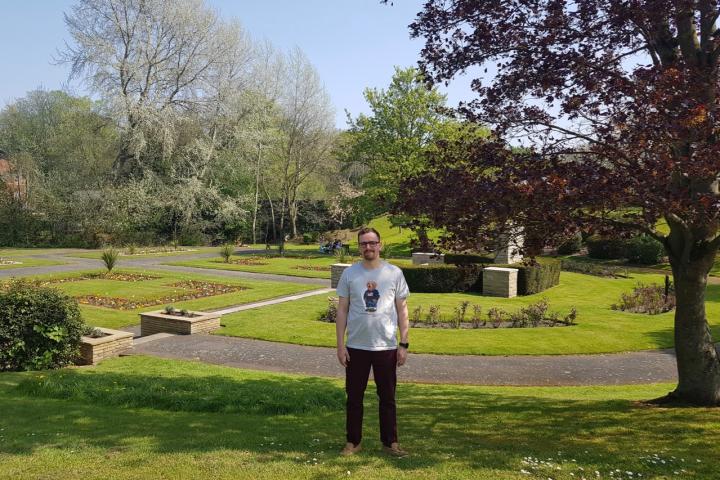 In the run up to the local elections on May 2nd I will be publishing brief interviews with each of the candidates - standing for seats on both the Town Council and Cheshire East Council - that respond to my request, in the order in which they respond.
To read interviews with other candidates you will be able to click on the tags at the bottom of the article. For example, pieces on the other candidates for the Wilmslow Town Council election will all be tagged 'Wilmslow Town Council 2019 Election'. Candidates representing the same party or group will also be connected via the tags, candidates competing in the same ward will be connected by tags as well and all articles will be tagged '2019 Local Elections'.
James Perry is a Conservative Party candidate for the Wilmslow West ward on Wilmslow Town Council.
James was born in Wythenshawe Hospital and moved to America shortly afterwards. After graduating from Temple University in Philadelphia, he moved back to Wilmslow in 2014 where he met his partner. James currently works as a paralegal assistant and is studying to become a barrister. His interests include reading, current affairs, marathons, seminars and charity projects.
Are you a member of any local groups or societies?
I am a member of the National Trust and the English Heritage. I support groups mainly involved with law like ProBono, Miscarriages of Justice Reviews and helping the homeless projects. I am a member of the law societies and political groups in University of Manchester.
Locally, I am a member of the Wilmslow Conservatives and open to join support to any local group or society that fits suitable with my skill interests.
Why have you decided to stand for election as a town councillor for Wilmslow?
I have decided to stand for election as town councillor for Wilmslow is cause I am a confident Conservative resident in the area, who understands the residents traditional values which has manifested into Wilmslow's heritage, where I want to publicly serve and protect the rural people.
What do you consider to be the important issues facing Wilmslow?
What I consider to be important issues facing Wilmslow is social mobility, senior citizen services, public transportation, parking issues, affordable and public housing.
What do you hope to achieve and how in the next 4 years?
A few projects I would like to achieve within the next four years is to invest in our market towns, enhance our library services, make waste collections easier all year round, resolve a solution to parking issues and continue to invest in our roads and public transportation. I would like to achieve these priorities to provide and support for a better Wilmslow by the support from the local community and colleagues to persuade public spending to budget these projects task to benefit Wilmslow's future.
What experience and personal qualities will you bring to the role?
I bring to the role as a town councillor are diverse, throughout my experiences as a US Marine it taught me disciple, determination, autonomy, resilience, dignity and most of all integrity.
And working in business sectors for real estate companies and law firms that further excelled my personal qualities to become eloquent, optimistic, self-reliant, perseverant, to be a team player and grit.
These are a few of my personal qualities built from experiences which I believe are suitable and cohere into fulfilling the position as town councillor.
Why should Wilmslow residents vote for you?
I hope Wilmslow residents vote for me cause of my experience and personal qualities that cohere into fulfilling the position as a town councillor but also for my passionate enthusiasm to fulfil the position as a town councillor to stand for Wilmslows' better future.