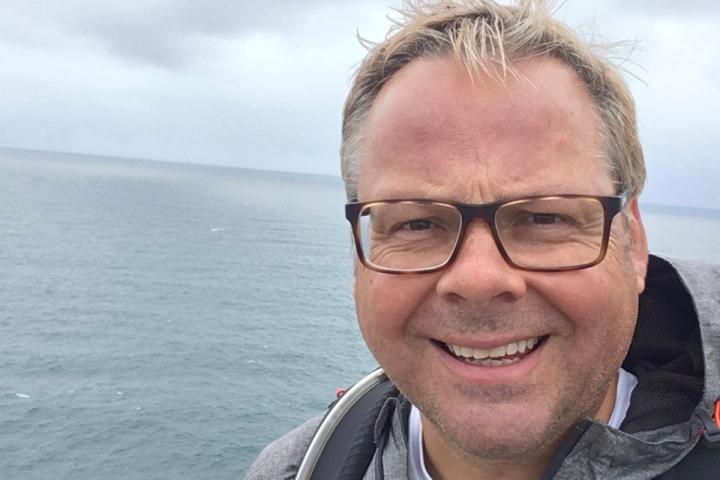 In the run up to the local elections on May 2nd I will be publishing brief interviews with each of the candidates - standing for seats on both the Town Council and Cheshire East Council - that respond to my request, in the order in which they respond.
To read interviews with other candidates you will be able to click on the tags at the bottom of the article. For example, pieces on the other candidates for the Wilmslow Town Council election will all be tagged 'Wilmslow Town Council 2019 Election'. Candidates representing the same party or group will also be connected via the tags, candidates competing in the same ward will be connected by tags as well and all articles will be tagged '2019 Local Elections'.
Mark Goldsmith is a Residents of Wilmslow candidate for the Wilmslow West ward on both Wilmslow Town Council and Cheshire East Council.
Mark moved to Wilmslow 20 years ago with his wife and has stayed here ever since. Working as an international marketing director for several large consumer goods companies, he has an MBA from Manchester Business School. He has recently taken semi-retirement to take on property renovation with his wife.
Mark told me "I am learning new skills to undertake much of the work myself, such as plumbing, plastering and tiling, so am not afraid to muck-in and get my hands dirty.
"I also really enjoy walking even though I only started doing it two years ago. Up till then, my only experience had been an occasional short walk to a country pub. But as a complete novice, I solo walked the full 270 miles of the Pennine Way. This is widely regarded as the UK's toughest walking route and I quickly found out why. It was a gruelling but, in the end, a highly rewarding experience. Encouraged by this, last year I walked all of the 570 mile Camino Way from southern France to the west coast of northern Spain. It was a brilliant experience from start to finish and it showed me how great things can happen just by continually taking small steps in the right direction."
Are you a member of any local groups or societies?
I am already a Wilmslow Town Councillor and also mentor overseas students at the Manchester Business School. Now I have more free time, I want to enrol on some more of the brilliant Wilmslow Guild classes as I believe in life-long learning and have really enjoyed the few short courses I have already completed there.
Why have you decided to stand for election as a ward councillor and re-election as a parish councillor for Wilmslow?
I have enjoyed my time on Wilmslow Town Council and have made a strong contribution to how it operates and want to continue this work. However, I share the widespread frustration with how Cheshire East Council ignores Wilmslow. With my business skills and passion for the town, I now have the time for a Cheshire East councillor role to make a bigger contribution to improving Wilmslow.
How long have you been a councillor?
Almost 3 years now, as I joined in August 2016 by winning a by-election after a previous Conservative councillor stood down.
What do you think have been your biggest achievements as a councillor in the past 4 years?
Probably getting Cheshire East to create a £2 million fund for local communities from the £30m it gets in New Homes Bonus, a government grant to encourage housing developments. The government set up the scheme to ensure local communities get some benefit from large scale house building. However, instead of local towns deciding how they spent the money, Cheshire East quietly kept it all. This meant large windfall sums have not made any improvements for Wilmslow. I challenged Cheshire East on this and with the help of Toni Fox (RoW's Cheshire East Councillor for Dean Row) they created the £2m fund for the borough. However, Wilmslow will still only get £80,000 of the £7 million it will generate in New Homes Bonus over the next few years. At least several groups in the town will now benefit from this money but there is much more to be done, if I am elected to Cheshire East Council.
Another of my achievements has been to ensure Wilmslow Town Council speaks out when Cheshire East fails the town. Our local council was very reluctant to publicly complain about Cheshire East in case it looked like they were criticising their fellow Conservative party members. I successfully argued that the biggest reason for creating our local council was so it would speak up for the town at every opportunity. Thankfully, Wilmslow Town Council is now far more vocal in doing this, especially in the key areas of parking and planning. Whether Cheshire East listens much is a moot point though, but at least we are now asking them the right questions.
Finally, I instigated the town councils new web site, so it is now much easier for the public to find key information, especially for mobile phone and tablet users.
Currently, we may only have a small number of Resident of Wilmslow councillors on our town council, but the fresh mind-set we bring really does make a big difference.
What have been your biggest disappointments as a councillor in the past 4 years?
Probably there are two of them. Neither of them are Wilmslow Town council's responsibility, but I got involved to add weight to the residents campaigns.
Firstly, not being able to resolve the parking issues on Leaside Way. Residents of Wilmslow tried to help those living on the estate who are blighted with parking problems. However, Cheshire East councillors and the Highways department stonewalled our proposals, despite having a signed petition by almost everyone living on the estate. The council was happy to let them suffer rather than move the problem to a new area and give themselves a new problem and new work to do. We protested that this was grossly unfair and pushed for a town wide parking review. We are now 18 months into this parking review and its progress is painfully slow with still no end date in sight. One of my tasks if elected is to ensure this speeds up and is implemented. Cheshire East seem very good a promising things but very bad at actually making them happen.
Secondly, the bulldozing of the Energi gym for the new Lidl. There were a dozen very good planning reasons not to allow this to happen and only one minor reason to allow it. So how this was passed is a scandal and Wilmslow has now lost a great community asset, while the local residents now look onto an imposing, ugly warehouse style building. It highlighted to me many problems with our planning department and its total lack of governance by Cheshire East council. Something that I also want to work to change if I become elected.
What do you consider to be the important issues facing Wilmslow?
Wilmslow has suffered a serious lack of investment across the town for years. Even Rachel Bailey, the Conservative Leader of Cheshire East admitted to us that "Wilmslow has been starved of funds". Our local Conservative councillors never challenge this though, because it makes their party look bad.
Cheshire East Conservatives have agreed to massive house building schemes because it's their national party policy. But they have not created any additional infrastructure to support the towns rapidly growing population. When the inevitable happens and our local services fail, the huge sums of money Cheshire East has gained from allowing these developments will be long gone. There will be nothing left to fix the problems, so we need to invest in Wilmslow now. We need to build more long-term car parking capacity, more high school places, more GP surgeries and to revamp the town centre using the Wilmslow Neighbourhood Plan as the blueprint.
What do you hope to achieve and how in the next 4 years?
We need to finish and implement the parking review. We can start the process of yellow lining around the streets to ensure they are safe, while creating temporary car parks near the town centre to ensure commuter cars have somewhere else to go. This would give the council a few years to build extra permanent parking capacity within the town. The additional parking fees would also make it self-funding as Wilmslow already provides £1m a year to Cheshire East in parking charges.
Also, I want to help drive the Wilmslow Neighbourhood Plan forward. This is a great blue print for the improvement and development of the town centre. However, it will need considerable funding from government and business to make it happen, which will need full council support. Achieving this would give the town centre a desperately needed make-over and ensure it becomes a vibrant hub for the community for years to come.
What experience and personal qualities will you bring to the role?
Over the last few years I have met many residents and fully understand their concerns, which will help me ensure they are addressed by Cheshire East and Wilmslow Town Council.
My work experience includes running large teams, working within big corporations to get things done, negotiating major business deals and communicating with the public. All of which seem relevant to this role. I also have a Master of Business Administration from one of the UK's top business schools, so know the organisational theory too. Something that I feel could be very handy within the dysfunctional Cheshire East Council.
Why should Wilmslow residents vote for you?
If they want action, not promises, if they want their local councillor to stand up for their local wishes and not be gagged by their party and if they want to see meaningful change for Wilmslow, then please vote for me.