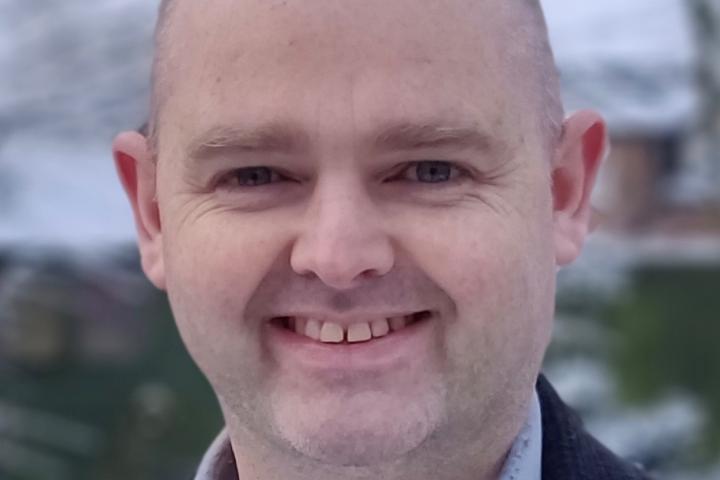 In the run up to the local elections on May 2nd I will be publishing brief interviews with each of the candidates - standing for seats on both the Town Council and Cheshire East Council - that respond to my request, in the order in which they respond.
To read interviews with other candidates you will be able to click on the tags at the bottom of the article. For example, pieces on the other candidates for the Wilmslow Town Council election will all be tagged 'Wilmslow Town Council 2019 Election'. Candidates representing the same party or group will also be connected via the tags, candidates competing in the same ward will be connected by tags as well and all articles will be tagged '2019 Local Elections'.
David Jefferay is a Residents of Wilmslow candidate for the Wilmslow East ward on Cheshire East Council.
David was born and raised in Wilmslow attending Lindow Primary and Wilmslow High Schools. He now lives on Welton Drive with his wife, their son, one dog, three cats and four chickens.
David is a chartered engineer and work as Chief Engineer for a project on ITER (an experimental fusion reactor in France).
He told me "It's a challenging role but I've negotiated flexible and part-time working hours with my employer to allow sufficient time for council duties if I'm elected. In my spare time I grow veg (I'm fascinated by self-sufficiency and permaculture) and support several animal welfare groups. Residents may well have seen us walking Perra (our over-sized, leggy, German Shepherd type thing) around Wilmslow."
David is a member of Residents of Wilmslow (RoW) and has been a volunteer for the animal sanctuary for approaching 10 years.
Why have you decided to stand for election as a ward councillor for Wilmslow?
I am standing for Cheshire East Council because I share the frustration that I believe many of Wilmslow's residents are feeling. Problems are not being addressed and residents are not being listened to. I understand that progress in local government can be slow and difficult but I believe we are being represented by people who, due to party allegiance, are unable or unwilling to challenge and hold to account the council's leadership. Things have to change.
How long have you been a parish councillor?
I was first elected in 2014 when a casual vacancy arose and I was re-elected at the last local elections in 2015.
What do you think have been your biggest achievements as a councillor in the past 4 years?
I feel fortunate to have been a member of a council that has made some significant achievements for the town such as the toilet block at the Carrs, the transfer of the neglected allotments at Land Lane and Cliff Road from CEC to town council control, and the development of the Neighbourhood Plan. I am happy with both my contribution and the level of scrutiny that I've given to these projects but I probably get most satisfaction from helping individual residents when they have a problem such as an inconsiderate planning application on their doorstep. This is something I would be able to help people with more as Cheshire East Councillor.
What have been your biggest disappointments as a councillor in the past 4 years?
I am disappointed that we as a council haven't been able to influence Cheshire East Council more to fend off unwanted and unnecessary development and to improve the parking provision in shorter timescales. However, I think that is more a reflection on the culture at Cheshire East Council than the town council.
What do you consider to be the important issues facing Wilmslow?
There are three main issues that people consistently raise with me; parking, empty shops and inappropriate or excessive development.
The inappropriate and excessive development is a result of a broken planning department (under massive pressure and high staff turnover) making inconsistent and bad decisions, and a planning system that rewards the Council for approving developments (irrespective of whether they are right for the local community). Not only is it changing the character of the town (negatively in my opinion), it is putting unacceptable strain on our schools (particularly Wilmslow High School), public services and our road network.
The empty shops is much more complicated and I won't pretend to have the answer. It is a result of many factors including high rents and rates but the Council isn't helping by encouraging out of town shopping e.g. the Lidl expansion at Dean Row, and by not increasing parking capacity in the town.
On the subject of parking, everyone knows there is a massive parking problem and whilst the recent CEC parking consultation is progress, the short and medium term solutions proposed will just push the problem around the town. In particular, I think the idea of changing some short-stay parking bays into long-stay for commuters will be damaging to the town centre businesses. I recognise that many businesses are struggling to recruit and retain employees due to poor parking provision but equally patrons of the retail businesses need short-stay parking. An increase in overall capacity is required and I would like to see a temporary parking solution, for example on the land between the railway and the A34 near Wilmslow high school, whilst a long-term solution (e.g. a double story carpark on Broadway Meadows) is implemented.
What do you hope to achieve and how in the next 4 years?
If elected, I plan to help reform Cheshire East into a more transparent and effective council by actively supporting the Cheshire East Independent Group's ChangeCheshireEast.org campaign for a committee based system instead of the current opaque cabinet system. I believe this would improve public perception of the Council and reduce the risk of further malpractice and suspect behaviour which has lead to several scandals, multiple police investigations and the associated significant costs.
I plan to relentlessly chase the council for implementation of sensible short-term parking measures with the long-term solutions expedited.
I hope to join the CEC Northern Planning Committee to ensure that there is a local voice challenging poor planning decisions. I will oppose ill-conceived development in the town but, if we are forced to have development, RoW and I will lobby for a greater share of the New Homes Bonus (money given to Cheshire East by central government for each house built) than Wilmslow has received in the past.
I also plan to bridge the gap between Cheshire East Council and Wilmslow Town Council by attending WTC meetings and providing feedback from Cheshire East. WTC being ignored by CEC has been a consistent theme in my experience and I don't think that is right.
On day-to-day matters, I would hope to provide good representation for the residents on their council-related issues with a view to getting successful outcomes for them (mainly by pestering the relevant officers at CEC until it is easier to address the problem than to deal with me). More generally, I hope to be a different type of Councillor. I aim to be 'good value for money', efficient, effective and transparent by publishing monthly reports on my council activity. Being accessible is important to me so I will be holding regular surgeries for residents to raise concerns.
I also hope for some success over the next 4 years growing cauliflower and broccoli but, to be honest, I am more optimistic about solving the empty shops problem.
What experience and personal qualities will you bring to the role?
Experience-wise, I have the experience of having lived in Wilmslow all my life and I have spent 4.5 years serving on Wilmslow town council as a member of the Planning, Community and Order, and Assets and Services committees as well as the Strategic Planning Panel.
In terms of personal qualities, I am a typical engineer in that I am a detail person and I scrutinise and challenge everything. I am determined, persistent, and confident.
Unlike many engineers though, I do have some 'people skills' as well.
Why should Wilmslow residents vote for you?
Wilmslow residents should vote for me because...
- I have a proven commitment to the town and it's residents
- I have local government experience
- I will act transparently and solely in the interests of Wilmslow's residents
On a final note, I would like to take the opportunity to thank all the people who have taken time to speak to me and my RoW colleagues on the doorstep so far. We have limited times when we can catch you at home and I realise that invariably it means interrupting you when you are preparing dinner or putting the kids to bed. However, almost everybody has been friendly and chatty so I thank you for that.