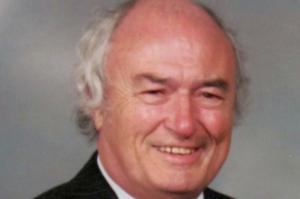 In the run up to the local elections on May 2nd I will be publishing brief interviews with each of the candidates - standing for seats on both the Parish Council and Cheshire East Council - that respond to my request, in the order in which they respond.
This is the third interview to be published for Handforth. To read interviews with other candidates you will be able to click on the tags at the bottom of the article. For example, pieces on the other candidates for the Handforth Parish Council election will all be tagged 'Handforth Parish Council 2019 Election'. Candidates representing the same party or group will also be connected via the tags, candidates competing in the same ward will be connected by tags as well and all articles will be tagged '2019 Local Elections'.
Brian Tolver is a Handforth Ratepayers' Association (independent) candidate for the South Ward on Handforth Parish Council.
Brian has been a parish councillor for over five years, including a period as Chairman. He is a founder member of Hands Off Handforth Green Belt (HoHGB) and says that although there are many individual groups that he very much supports, he prefers to stay separate so he can be impartial as a councillor.
Why have you decided to stand for re-election as a parish councillor for Handforth?
Handforth now has a major opportunity to improve its infrastructure, thanks to CIL money that should come into the Parish Council over the coming years (about £1/4 million per annum), and having worked really hard to help make that happen, I want to help bring these improvements to life.
What do you think have been your biggest achievements as a councillor in the past 4 years?
Unquestionably it has been the work I did on helping to get the CIL money (referred to above) for Handforth – I worked very nearly full time on this for almost two years. It was a team effort, but we were up against lawyers and professional consultants in the final phase (the public Examination), and we had to do a huge amount of preparation to win the day.
I was also honoured to be part of the Council that voted unanimously to pay towards the War Memorial in Handforth, first proposed by Cllr Mike Thompson in October 2014 – indeed, I was the only councillor who was in place to vote for it a second time, when we increased the amount in 2015!
What have been your biggest disappointments as a councillor in the past 4 years?
The loss of Green Belt in Handforth; the scrapping of the Clinical services at the Health Centre; the loss of so many bus services due to cuts by CEC; and the failure by CE C to come up with a plan for all the extra school places that the increased housing in the area will shortly be creating.
What do you consider to be the important issues facing Handforth?
See previous answer: but also the crumbling infrastructure, for example our roads and pavements and our public buildings, and the lack of parking; the rapidly increasing crime rate (over 66% growth in one year), and doing what we can to help the environment – air quality, carbon-neutral development, electric car-charging points, for example.
What do you hope to achieve and how in the next 4 years?
As well as the opportunity to deal with some of the infrastructure problems, we need, as a Parish Council, to keep on working with, and pressurising, CEC to deal with the urgent area-wide issues, particularly education and traffic. I hope that we can integrate far more closely with what Cheshire East do, so that we can make them take much more account of Handforth's needs.
What experience and personal qualities will you bring to the role?
As well as being a councillor for several years (including a spell as Chairman), I have over 50 years' experience in finance, banking, computing and other industries, in both large and small companies, which has taught me a great deal about how things work, and how to get things done. Also, we have to spend a huge amount of time as councillors) reading masses of papers, often quite technical, so having that kind of mind-set where detailed study is essential, is obviously important.
Why should Handforth residents vote for you?
This is the hardest of your questions, because there are many candidates for the job of Parish Councillor standing for election, all of them capable and with every intention of being dedicated to serving the residents of their wards. If people want to choose me once again, I shall be very honoured.