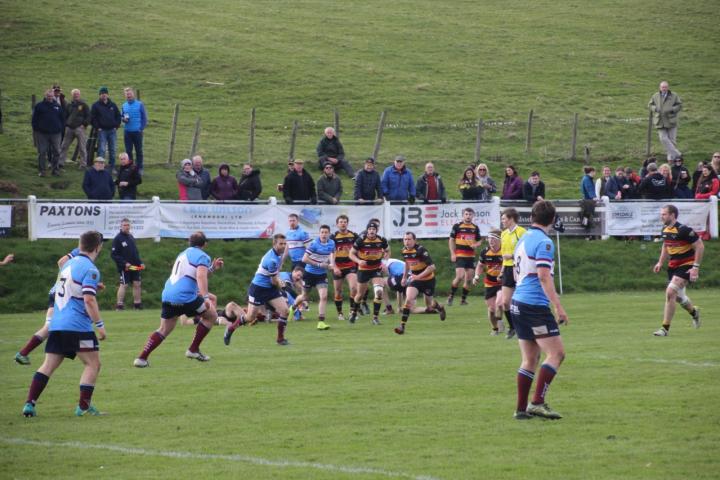 Saturday 13th. April 2019
Northern Premier League
Kirkby Lonsdale 38 – 17 Wilmslow
Wilmslow's single season adventure in the Northern Premier league ended as it started with defeat at the hands of Kirkby Lonsdale. Three wins and a draw from twenty six games leaves the Wolves firmly anchored at the foot of the league. They will be accompanied into Level 6 rugby next season by Vale of Lune and Kendal, who between them accounted for two of the Wolves' wins and their solitary draw. Hull were run away league winners and Blaydon will contest the play off to National 2 North against Luctonians from Leominster in the Midlands.
At the season's outset, Wilmslow's players were encouraged, come what may, to enjoy and relish the challenge of testing themselves in Level 5 rugby and if the manner in which they stuck together to retain their motivation and spirit throughout a difficult campaign is anything to go by, then you would have to conclude that despite all the setbacks and heavy losses, they responded to the challenge, never gave up, stood tall and eventually acquitted themselves with some honour. If they should ever come this way again any time soon, then one would hope that the lesson of this season will have been been learnt. The pace and power of the game in the NPL is a big step up from the level below and requires a promoted side to assemble a strengthened squad.
The leading sides all fringe on part time professionalism and consequently recruit bigger, faster, fitter, more powerful and more skilled players. A handful of Wilmslow's players have shown they have what it takes to raise their game to this level but it would take an injection, principally of pace, in the back row and back division to become competitive at this level. The only part of the game in which the team was effective all season was in the set pieces of scrum and lineout, where dazzling pace and blistering acceleration amongst your players around the field is not a prerequisite, although it helps. The Wolves front row, whoever they put out, was never bested all season and provided a solid platform for their second row. The lineout too was generally well contested so, whatever the Wolves' shortcomings were, they didn't include an inability to win sufficient decent first phase possession.
Kirkby Lonsdale have clearly progressed in every one of their three seasons in the NPL. They are particularly pleased that so many good young players, coming into their squad from their juniors and colts, have quickly shown that they can handle the demands of the game at this level. Given their overall domination for much of this game, the Wolves did well to restrict them to just five tries. They scored in the first play of the game before Wilmslow had even touched the ball and thereafter had sufficient possession and territory to have scored more than just the four that they did.
The Wolves though scrapped for everything. As usual they won their fair share of first phase possession and on occasions both disrupted the KL scrum and forced some turnover ball from the lineouts. Their trouble was again that they didn't possess the power and the pace around the pitch to seriously inconvenience the KL defence. Inevitably, in desperation to try and make something happen, to have a go, passes got misplaced and dropped, risks were taken, interceptions and turnovers abounded and misplaced kicks just got hoovered up by the opposition. Their support of the ball carrier and ball retention has been their Achilles heel all season. At least two of KL's tries were the result of the Wolves losing control of the ball. To their credit, the Wolves scored twice through centre Ethan Harding in the first half after an interception and good running by Kyle Mellor and Sam Becket. Ollie Lee breaking off from a penalty lineout drive late in the second half got the second. Bob MacCallum converted both and was successful with a first half penalty.
It was also Rick Jones last game in charge as club coach. After seven seasons, he has decided to return to Macclesfield, the club that he played for over five hundred times in a twenty year career. He will be joining the coaching team there and in all probability head it up. He was at pains to say how much he had enjoyed his time at Wilmslow but added that the opportunity at his home club was such that he couldn't turn it down. Jones has been a popular figure at Wilmslow, has fitted in well and achieved no little success, this season not withstanding, during his tenure. Seven years though as coach at one club is a good stint by any standards. "We're sorry to see him go, said president Chris George, but fully understand why he has made that decision. He got on well with the players and accomplished a great deal. We hope that it works out well for him back at Macc."
Photo: Bob MacCallum only has forwards to pass to where his backs should be.
Match report by David Pike.
Tags: