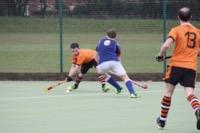 Wilmslow Ladies 3st 3 Triton Ladies 2nd 0
This was a nervy game with Wilmslow needing to win to gain promotion. Fiona Jeffers opened the scoring for Wilmslow but they laboured to get a second. As so often happens Triton scored an equaliser from a breakaway. Tilly Conroy scored an excellent goal to put the Tangerines in front but every Triton attack made the spectators nervous. Eventually victory was scented when a long corner injection from Jeffers was deflected in by Sarah Hayward. The 3rds now join Ladies 1, 2 and 4 in a higher division next season.
Harrogate 1st 5 Wilmslow Men 1st 3
The Yorkshiremen are crowned worthy champions of the division and so Wilmslow crossed the Pennines with a degree of nervousness. The match, however, developed into an entertaining contest of fine hockey from both sides..
Andy Hunt opened the scoring for the Tangerines and Nick Lowden celebrated his elevation from the 2nds with a brace of goals. A defeat but an honourable and encouraging one.
Mens 2nd were leading Macclesfield 1st and looked set to rack up the scoring. However Macc hit them with a double whammy and the home side struggled to reassert themselves. They pulled level but right at the death the Macc lads took the points.
Wilmslow Men 3rd 7 Deeside Mens 5th 0
Having watched the ladies triumph it was now the turn of the men. They also needed a win to guarantee promotion but they turned on the style for their win. Matt Price and Adam Figgins both scored but man of the match was undoubtedly Andy Portnell with five goals. Cue more celebrations as the 3rds record their third successive promotion.
In the other matches Men 4th lost 2-3 away to Knutsford 3rd but the 5th beat Bowdon 8th 4-0.
Match report by Steve Kinsella.
Tags: