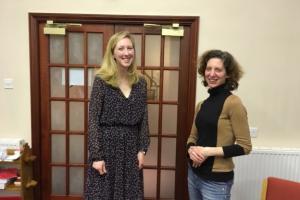 A new project to open a community co-operative shop in the heart of Wilmslow is progressing well.
Lisa McClory, who approached Transition Wilmslow and plastic free Wilmslow with her idea, set up an inaugural meeting at the end of January offering people an informal opportunity to find out more about the project and add their views.
Since then a shop committee has been formed, currently with 28 members, and they are working together to write the shop's business plan. Once this is complete they will start looking at premises.
Lisa McClory told wilmslow.co.uk "There are a diverse range of people on the committee with skills in all useful areas - marketing, funding, retail, property and planning, schools, health etc - and we are due to send out more invitations to join the smaller working groups to anyone who has so far expressed an interest."
She added "We have about 340 people on the Facebook community and we plan to be on a stall at the Wilmslow Artisan Market along with Transition Wilmslow."
The plan is for the shop to sell reasonably priced, good quality and local veg, bring-your-own-container produce and a range of local artisan goods.
Lisa said "The shop will be a worker co-operative, similar to the Co-op/John Lewis model but small and local, and will create paid employment opportunities.
"All involved so far are volunteers with other jobs and we are looking for any entrepreneurs or potential shop managers who might be interested in getting involved with the committee now and helping to get it up and running."
Anyone interested in joining the committee is asked to contact wilmslowcommunityshop@gmail.com.
Photo: Lisa McClory and Florence Collier.
Tags: