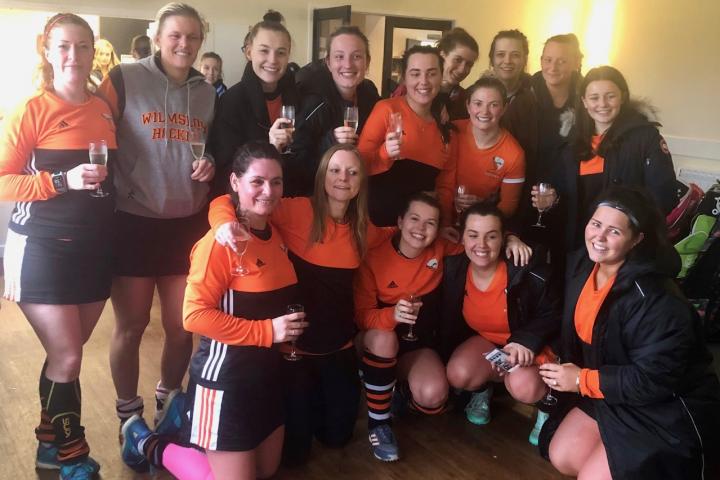 Wilmslow Ladies 1st 1 Oldham Ladies 1st 0
Wilmslow Ladies had their last league game of the season against Oldham and were determined to end on a high. The Tangerines dominated from the off but Oldham put up a spirited fight with a well-organised defence. Wilmslow huffed and puffed but could not find their goal scoring form. Probably for the first time this season was a half time score of 0-0.
In the second half Lindsay Rachubka came close on a number of occasions. Maddy Troup ran tirelessly, and Carla Botha showed her class with some aggressive and skilful stickwork.
Eventually it was Botha who broke the deadlock with a well taken goal much to the team and spectators relief. Cue celebrations
Wilmslow are champions with an impressive goal difference of 55. Emilie Kelman and Charlotte Kelman were Players of the year, Maddy Troup was Most Improved player and for the second year running Lindsay Rachubka was leading goal scorer.
Wilmslow Ladies 2nds had another of their fierce battles against Runcorn 1st. In a physical contest the Tangerines drew 1-1 and are confirmed as champions.
Ladies 4ths had already been crowned champions and just wished to finish in style. This they did with a 7-1 demolition of Crewe Vagrants 4s.
Ladies 5ths have had an excellent season but had to face the winners of their division, Club Hoci Eirias 1st. The North Walians have amassed a total of 225 goals and so the Wilmslow youngsters were not shamed by a 0-6 defeat
Wilmslow Men 1st 2 Ben Rhydding Mens 1st 2
Wilmslow were comfortable beaten by the Yorkshiremen in the away fixture but as the season has progressed the squad has grown in confidence.
Matching the visitors in midfield the Tangerines were soon pressing and eventually won a penalty flick which was coolly converted by Pete Hallinan. As the half progressed further pressure resulted in a fine deflected goal by Andy Hunt.
The second half was a fairly even affair but as the match progressed Rhydding had some ominously powerful attacks. As ever, heroics in goal by Si Pickering kept them at bay but in the last ten minutes Wilmslow were hit by a couple of goals to share the points
Mens 2 beat Triton 1st 6-3 away with three goals in the last quarter of an hour but are still rooted in 3rd position in the league
The 3rd team narrowly won 1-0 away against Sefton 3rd and are now guaranteed either fist or second place in the league
There was no game for the 4ths but the 5ths had a spirited 3-1 win against Lymm 3s.
Photo: Ladies 1st celebrating being champions.
Match report by Steve Kinsella.
Tags: