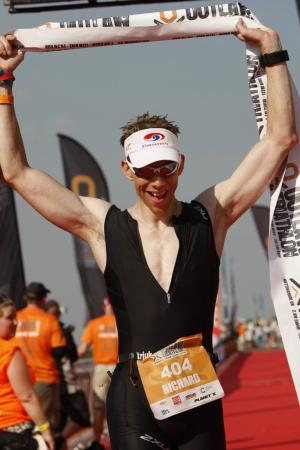 A personal trainer and triathlon coach from Wilmslow has recently started training for two endurance events this summer, 15 years since he was first diagnosed as a type-1 diabetic.
Rick Ashworth, who was diagnosed as a type-1 in August 2004 at age of thirty after returning home from six months of travelling, is taking on the challenges to raise money for Diabetes UK but also to raise awareness and understanding about diabetes and to frame it in a positive way.
Rick said "I should have done something like this years ago but the time has come to make changes to my life as a whole and I'm becoming increasingly frustrated with the media portrayal of how diabetes is essentially a life sentence. In my own life I have never been motivated by the stick approach so I want to provide diabetics with some inspiration that their condition can be managed and controlled effectively to allow them to do anything."
In August he will be taking part in both the North Dows Way 100-mile Ultramarathon and the Ultraman UK over three days.
Rick added "I have chosen ultra-endurance races because they challenge my ability to control my blood sugar and because they are events that are considered ridiculous or 'extraordinary' as one of my clients described them. Without wanting to belittle marathons, everyone runs a marathon to raise money and that has become somewhat the norm. Finally, a six-mile, several hour, swim will be most challenging of all as simply stopping to have some food is not quite as straight-forward as whipping out a bar from your back pocket and taking a quick rest."
So far training is going well for Rick who is self-coached and has recently started eating a vegan diet in an attempt to cure dietary and skin issues that have developed since he became diabetic.
Rick said "I have done Ironman triathlons and shorter ultra-distance runs before, last year finishing 13th in the Classic Quarter - a 50-mile run along the coastal path from Lizard Point to Land's End. However, I entered this year's races because, especially the Ultraman, I'm genuinely scared that I won't make the cut off times (12hrs to complete the 6-mile run and then a 90-mile bike ride straight after) and that is quite a motivator - I damaged my shoulder in a fall during the Classic Quarter and have only just started swimming again - I can do 1500m so far!"
If you'd like to sponsor Rick and support his efforts to fundraise for Diabetes UK then you can donate online via his JustGiving page.