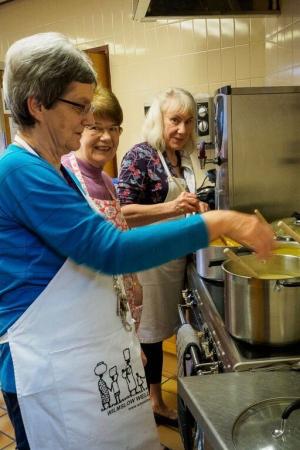 Wilmslow Wells for Africa held another hugely successful souperday at at Wilmslow Methodist Church on Saturday, 2nd March.
Over 170 people turned out to enjoy the homemade soup and bread, meaning it was a very busy event.
The cake stall was laden with an impressive display thanks to Fulshaw WI's helping the ever popular event to raise £1,464
Jenny Gibbs, Chair of Wilmslow Wells said "Thank you to everyone who supported us either on the day or before or both. Support comes in many forms - by contributions of gifts, publicity, manning stalls or coming to enjoy the soup and cakes. The wonderful result is not the result of the work of an individual but of a team of people.
"This sizeable sum will be put to good use and will transform many lives. Thank you for enabling us to fund more projects."
Wilmslow Wells for Africa is a direct action charity which aims to improve life in drought-stricken areas of Africa by providing wells, pumps, dams and water collection equipment. in total the charity has raised £1.3m since they were formed in 1984.
They keep administration costs to a minimum so that 99.2% of everything they raise is spent directly on projects to provide clean water, made possible because their organisation operates entirely on voluntary effort.