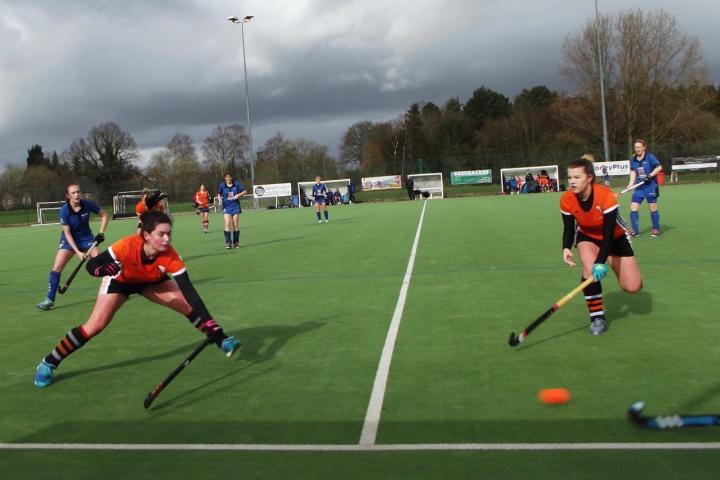 Wilmslow Ladies 1st 3 Timperley Ladies 2nd 1
Wilmslow Ladies hosted Timperley for the first of their 2 games last weekend. The score was an exact replica of reverse fixture.
Timperley started well and were pinning the Wilmslow defence in their own half without threatening the Wilmslow goal. The home side soon settled and were playing some good hockey from defence and through the layers of their team. During one of these plays a penalty corner was awarded and Charlie Westbrook-Platts tucked away the rebound brilliantly.
Not long after a wonderful team goal finished off nicely by Hannah Coulson gave Wilmslow a 2 goal cushion. Timperley were able to get a goal back 5 minutes before half time from the breakdown of a penalty corner. However Carla Botha restored the 2 goal cushion with a brilliant solo effort, 3-1 going into the break.
The game was an even affair in the second half and Wilmslow were content to secure another 3 points.
Wilmslow Ladies 1st 4 Didsbury Northern Ladies 2nd 0
Wilmslow began the second game of the weekend the brighter team; and were playing at a tempo Didsbury were struggling with. The Tangerines were showing why they've lead the league since November, with their defence solid and attacking unit full of energy. Emilie Kelman opened the scoring with an exquisite reverse stick shot that rocketed into the bottom corner. Lindsay Rachubka extended their lead with an accurate strike on a short corner.. The weather was beginning to cause issues with heavy hailstones falling. Half time was a welcome break as the players sought warmth in the clubhouse to shelter whilst the conditions improved.
IN the second half Wilmslow were still full of energy and looked dangerous on every foray into their oppositions 23. Rachubka found her teammate Botha who confidently slotted the ball past the keeper to extend their lead. Sustained pressure on the Didsbury defence led to a number of long corners. Harrison found the captain Charlotte Kelman who played a strong pass into the path of leading goalscorer Rachubka who scored with a clever flick.
The game finished 4-0 and Wilmslow now only need a point to secure the title and promotion to North Division 1
Wilmslow Ladies 2nd and 4th, both keen to improve on promotion and end up champions, had emphatic wins. 2nds beat Bowdon 4ths 4-0 and the 4ths beat Macclesfield 3rds 5-0.
Ladies 3s lost away against Whitchurch 1s 2-6 but are still in with an outside chance of promotion as are the 5s who lost away to Macclesfield 4s 1-4
Newcastle University Mens 1s 4 Wilmslow Mens 1s 2
Wilmslow's started off wearily after their long trek to the north east and soon found themselves 0-3 down to a sharp University side. Just before half time Wilmslow were starting to assert themselves and Jack Wright scored a deflection to pull one back
In the second half Newcastle made it 1-4 with 20minutes to go but soon after Joe Booth scored to make it 2-4 which heralded a Wilmslow fight back. A heroic performance from the Newcastle goalie kept the Tangerines at bay for the remainder of the match.
Wimslow Mens 2nd played second placed Fylde 1st at Styal in a tight scrap. The Tangerines had their defence to thank for keeping a well organised Fylde side down to 2 goals and through the attacking sharpness of Lowden, Bell and Bonner ended up 4-2 winners
The 3rds were back to winning ways after last weeks aberration and beat Macclesfield 2nds 4-2.
Wilmslow 4s went down 2-3 at Sandbach 2s but the 5s beat Triton 4s by the same score.
Match report by Steve Kinsella.
Tags: