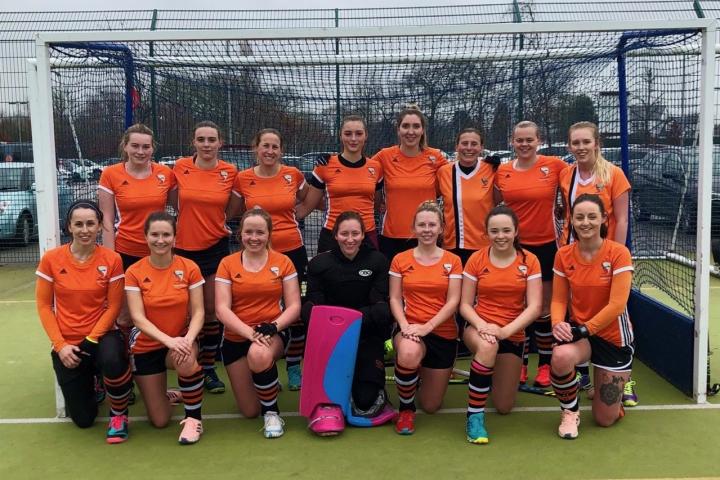 Wilmslow Men 1st 3 Deeside Ramblers Mens 2nd 1
Wilmslow beat Cheshire rivals Deeside with an excellent team performance on Saturday. The Tangerine supporters took particular pleasure in the contributions from the younger members of the squad: Cameron Armstrong, Ben Jones, Tom Davenport and Fabio Stubbs.
Wilmslow took the lead in the first half when Martin Wright flicked low into the bottom left corner from a short corner.
Deeside drew level shortly after from a short corner of their own after a spell of pressure around the Wilmslow circle.
Andy Hunt restored Wilmslow's lead as he popped up in the circle to score from close range after good work from Darryl Stocker on the Wilmslow right.
Man of the match Cam Armstrong was influential in midfield as Wilmslow started to dominate the game with short, sharp passes.
The Deeside defence survived a number of scares in the second half as Wilmslow came close to extending their lead through Hunt, but Wright eventually scored his second and Wilmslow's third with a slap from another short corner.
Deeside had a chance to pull a goal back right at the end but Simon Pickering was alert to make a sharp double save right before the final whistle, and Wilmslow celebrated a deserved 3 points.
Wilmslow 2nds came from 2-3 down to win 4-3 with a last minute goal away against Preston 3s.
Photo: Ladies 2nds.
The 3rds suffered a rare home defeat, losing 3-4 to third placed Rhyl
Mens 4th beat Timperley 5th 4-2 away but the 5ths went down 0-4 to Crewe Vagrants 3rd , their veterans side being too strong in the second half for a young Wilmslow team.
Tangerines back to winning ways
Ladies 2nds and 4ths promoted!
Wrexham Ladies 1st 1 Wilmslow Ladies 1st 4
Wilmslow began the game the better side, playing at an intensity the home side were struggling to match. The league leaders were back to their midfield best with excellent passing sequences all over the pitch creating a number of opportunities.
During one of these periods, forwards Honey Dickinson and Emilie Kelman exchanged passes eliminating multiple Wrexham defenders to present Danni Harvey with on opportunity she could not refuse; 1-0 to the visitors and an excellent team goal.
Wrexham were beginning to get a foothold in the game and from a penalty corner levelled the scores. The Tangerines reacted well and increased their share of possession. After coming close on a number of corners with Charlie Westbrook-Platts' clever deflection hitting the post and Lily Harrison's shot missing by millimetres, captain Charlotte Kelman stepped up and confidently slotted the ball past the helpless keeper, who was having an outstanding game, to give Wilmslow the lead again.
Wilmslow maintained their pressure forcing the home side into a number of defensive errors. This allowed the Wilmslow midfielders time and space to pick their passes in and around the attaching circle; a dangerous opportunity for a team who have scored an average of 3.6 goals a game this season. Inevitably leading goal scorer Lindsay Rachubka capitalised on this pressure to score with a lovely flicked finish.
Wilmslow's lead was extended when another penalty corner routine saw the captain claim an assist with a weighted ball into Carla Botha on the far post whose deft deflection deceived the keeper and the last defender to complete the scoring.
4-1 was the final score and sees Wilmslow maintain their 3 point lead at the top of the table with 3 games to go.
After going so close last season Wilmslow Ladies 2nd finally won promotion with a 6-0 away victory against Rhyl 1st on Saturday and a 2-0 victory against Warrington 1st the following day
Ladies 3rd saw off Chester 3rd by another 6-0 scoreline including some thrilling goals, pick of which was a solo effort from Pippa Forsythe starting with a run from her own half.
Wilmslow form team is currently the Ladies 4ths who put 8 goals past Whitchurch 2s, to strengthen their place at the top of the table and also secure promotion.
Unfortunately the Ladies 5s, without a recognised goalkeeper went down to Bowdon 7s but the top four sides scored an impressive 24 goals on Saturday.
Match report by Steve Kinsella.
Tags: