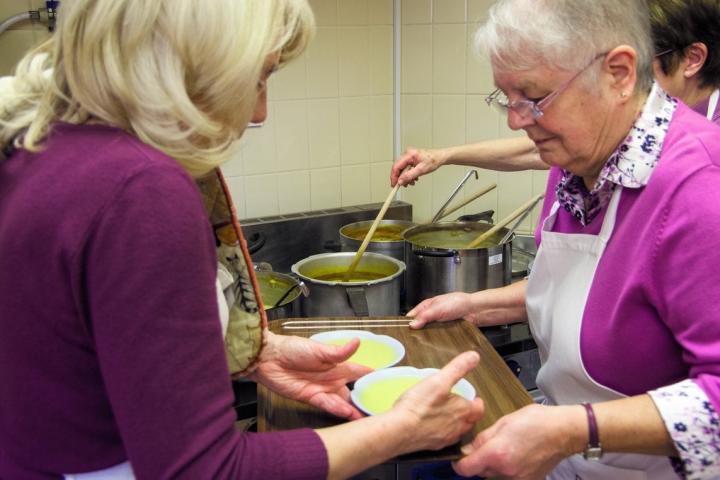 Wilmslow Wells for Africa will be holding their first Souperday of 2019 at Wilmslow Methodist Church on Saturday, 2nd March.
The charity has been organising two souperdays each year since 1990, which attract a solid band of supporters who always turn up to enjoy homemade soup and bread.
There will be a choice of 4 soups and bread, all homemade, plus a hot drink. A selection of homemade cakes donated by Fulshaw WI will also be on sale along with preserves, WWfA tea towels, bags and notelets from 11am to 2pm.
Jenny Gibbs, Chair of Wilmslow Wells for Africa said " The twice yearly Souperday has become one of the backbones of our fundraising, allowing the costs of clean water, hygiene and sanitation projects to be met.
"The total number of projects is now over 200 and over 440,000 people have been helped in the 34 years of our existence. Nevertheless the cost per person helped has remained incredibly low, at an average of £2.78.
"All of this fantastic work has only been made possible by the hard work and generosity of many hundreds of our fellow Wilmslow residents. Our thanks are probably better expressed in the words of Pila Okello, in Uganda when at 80 years old she saw a borehole for the first time. It was drilled in her village so that now she could access clean water. 'Thank you very much Wilmslow Wells for Africa. You have put everlasting smiles on everyone's faces especially the vulnerable mothers, children and elderly'."
Admission is £4 for adults and £2 for children. All the money raised goes to the volunteer run charity to help provide clean, more reliable sources of water in rural Africa, enabling lives to be transformed.
Wilmslow Wells for Africa is a direct action charity which aims to improve life in drought-stricken areas of Africa by providing wells, pumps, dams and water collection equipment. in total the charity has raised £1.3m since they were formed in 1984.
They keep administration costs to a minimum so that 99.2% of everything they raise is spent directly on projects to provide clean water, made possible because their organisation operates entirely on voluntary effort.