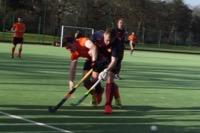 Wilmslow Men 1st 1 Chapeltown Men 1st 1
The first half was attritional as both sides tried to nullify each other's game plan, with Chapeltown looking for long passes to their forwards and Wilmslow trying to get their short passing game going.
Half time came with the score at 0-0 as neither side could make a breakthrough.
Wilmslow did well to repel a short corner at the start of the second half and then started to take control of the game.
After missing two great chances to go ahead, Wilmslow were awarded a penalty flick when Pete Hallinan was felled with the goal at his mercy. Matt Westbrook couldn't convert the flick though and it remained 0-0.
Wilmslow did finally take the lead shortly after man of the match, Andy Hunt pounced to score a rebound after a good save from Chapeltown's keeper.
From then on it looked as if the Tangerines would have their second week of success against Sheffield sides. Pressure brought a number of penalty corners but errors prevented any increase in the score
Inevitably Chapeltown levelled with 4 minutes left after a tap in at the back post. It finished 1-1 and both teams had to settle for a point.
Wilmslow Mens 2nd maintained good progress with a 4-1 away win against Blackburn 1st.
3rd cemented their top spot in the league with a 4-1 home win against Denbigh 1st
Mens 4th and 5th both lost 1-4 and 2-4 to Bramhall 2nd and Macclesfield 4th respectively.
Another clean sweep for Wilmslow Ladies
Wilmslow Ladies 1st 3 Alderley Edge Ladies 2nd 2
Wilmslow started the brighter side; moving a young and enthusiastic Alderley in an attempt to cut open their defence and create a goal scoring opportunity. The league leaders were working the ball nicely in the final third and one of these periods led to the awarding of a penalty corner. A misplaced injection led to some inventive play by man of the match Lily Harrison, which saw her strike rocket into the bottom corner giving her her 3rd goal of the season and Wilmslow an early lead.
Wilmslow continued their pressure on Alderley a back line however some carelessly placed passes led to numerous turnovers in the midfield. It was during one of these that the fast paced forwards of Alderley broke and Wilmslow conceded a penalty corner. During the initial PC, the first runner broke the line and was sent to the half way line meaning Wilmslow were left with 3 defenders to protect their lead. After a goal mouth scramble, Alderley tucked away the rebound and levelled the scoring going into half time.
Coach Ray-Hills reminded Wilmslow of the importance of sticking to their game plan and the girls started the second half with a greater intensity. Intricate play in and round Alderley a defensive circle saw the awarding of a penalty stoke, a reward for Wilmslow's dominance early in the second half. Hannah Kelman stepped up and cooly wrong-footed the keeper sending the ball into the opposite corner and giving the home side the lead again, 2-1 on 42 minutes.
This lead was extended 15 minutes later when leading goal scored Lindsay Rachubka's dribble carved open the visitors defence. Work horse Carla Botha was in the right place at the right time to slot home Rachubka's goal bound effort confidently for her 10th goal of the season and take the score to 3-1.
Wilmslow were disappointed to concede minutes later from a controversial long corner; this set up a nervous final 10 minutes. The two teams continued to challenge however both defences remained impenetrable.
The match finished with a 3-2 victory and sees Wilmslow continue their fine form, unbeaten in their last 12 games. This result sees Wilmslow go 6 points clear at the top of the league table and in a good position heading into the final 5 games of the season.
Wilmslow Ladies 2nd beat Knutsford 1st 3-0 to keep up progress at the top end of the table.
3rds beat Winnington Park 2nd, 1-0
Ladies 4th had the result of the day beating close rivals Runcorn 2nd 5-0 away to leapfrog into first place.
Making it five wins out of five, Ladies 5th beat Sandbach 2nd 2-0.
Match report by Steve Kinsella.
Tags: