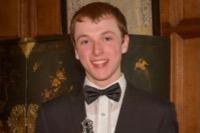 Now in their 72nd season, Wilmslow Symphony Orchestra is still going strong and preparing for their Anniversary Concert on Saturday 16th February.
For this concert they are delighted to introduce Solomon-Miles Donnelly from Rainhill in Merseyside. Aged just 17, Solomon-Miles is a graduate of the Chetham School of Music and has won competitions in Warrington, Rainhill and Hazel Grove, while his playing career has already taken him as far afield as Poland. In this concert he will be the soloist in Rachmaninov's ever-popular Second Piano Concerto.
Dermot Gault Sid "Emerging talent is the theme of this concert. The Rachmaninov concerto is the work with which he established his reputation after his wonderful First Symphony – which we played a few years ago – fared badly at its premiere. The two other pieces – Stravinsky's glittering Firebird Suite and Verdi's rousing overture to Nabucco – are the works which made these composers' reputations with the general public. The Stravinsky suite, which shows that he too had his roots in Russian romanticism, will make a spectacular conclusion to the concert.
"The conductor will be our old friend Bob Chasey, and as Guest Leader we are delighted to welcome back Rosy Williams."
The concert takes place on Saturday 16th February at 7.45pm in Wilmslow Leisure Centre. Tickets cost £12 (Concession £10, Under 18s £2), and may be obtained from the Ticket Secretary (01925 756 144), or at the door.