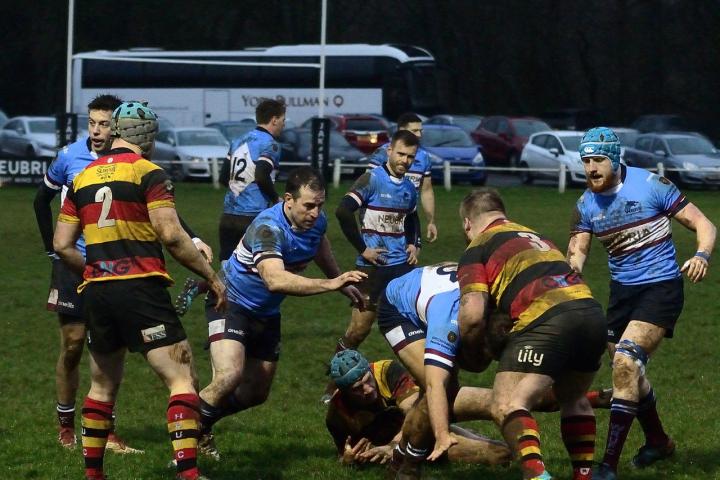 Saturday 26th. January 2019
Northern Premier League
Wilmslow 5 – 54 Harrogate
There's still no end in sight to Wilmslow's suffering as they were consigned to another heavy defeat, this time at the hands of fourth placed Harrogate.
Nobody could say that it was totally unexpected . The Yorkshiremen, by their own admission, have grown stronger as the season has progressed and are now within sight of a second place finish and a play off to return to National 2 North after an absence of three seasons. But for a handful of very narrow defeats, they could already have been in the play off spot.
Once again, Wilmslow conceded seven points in the first minute of the game when a sloppy pass just after the kick off was intercepted by Harrogate's young rising tyro, No. 7 Hugo Tasker, who galloped away unmolested for their opening try, converted by centre Nathan Wyman. Thank you very much! Wilmslow coach Rick Jones hadn't even had time to take his position in the dugout. Wilmslow heads just dropped and Harrogate ran back the restart, forcing the Wolves to defend desperately on or around their own twenty two. They got a turnover but after several drives had failed to cross the gain line, they tried to kick their way out of defence. The ball went straight into the hands of the Harrogate back three and the siege was on again. Another turnover, no ground made and a further kick out of defence, this time to the left, was fielded by the other Harrogate winger. Back they came again, Wilmslow got penalised for not releasing the ball on the ground and from the penalty lineout, the Harrogate forwards drove over, No. 8 Jonny Coser getting the touchdown. Only seven minutes had been played.
Wilmslow were soon stuck again in their own territory. Their scrum was under pressure and they had several narrow escapes before they dropped the ball on about halfway. It was booted up to the Wilmslow try line where it was deemed to have been touched down after being carried over the line. Ironically, last season the same bit of action would have led to a drop out but because of a technical law change last summer Harrogate were awarded a scrum. A third Harrogate try seemed inevitable as only a gentle nudge would give them a push over try but it seemed that Coser fumbled the ball in going for the score. It was a knock on and should have been a scrum to Wilmslow but incredibly referee Henry awarded Harrogate a penalty try. The Wolves still hadn't got out of their own half when a kick for position went out on the full. Back they all trooped for the lineout from where a well judged kick into the Wolves twenty two had the defence scurrying around at sixes and sevens. From the lineout, a series of picks and drives ended with second row Sam Brady scoring try number four. It was clinical in its execution. The Wolves tackling, so committed in recent games, now went AWOL and two more tries followed before the break as No.6 Martin Dodds and then full back Ollie Rosillo waltzed in through a threadbare defence.
Rick Jones knows as well as anyone what this Wilmslow squad is capable off and what they had produced in the first period was way below the mark. His fury and language knew no bounds as he demanded a response in the second half to at least restore some pride. And against all the odds he got it. The Wolves started the second half with new vigour and application and within five minutes or so were on the scoreboard when the pack drove over from a lineout for second row Kyle Mellor to touch down.
The heavens then opened to produce a typical dark dismal January deluge for the remaining half hour. It almost obliterated the effects of the floodlights. Both sides had problems hanging onto the slippery ball, the Harrogate players particularly seeming to lose their edge and to become prone to handling errors which blunted their onward march. The game was at least more of a contest now with Wilmslow actually seeing a bit of play in the Harrogate half and giving as good as they got. Rick Jones was particularly pleased with the way his substitutes got mucked in. Sam Beckett on the wing made himself busy, prop Mike Parker put himself around and back row Harry O'Loughlin looked the part again. Only when some harsh refereeing decisions went against the Wolves in the final minutes did Harrogate get their final two scores. Both of them had their origins in penalty kicks to the right hand car park corner, where their pack set up a series of drives, leading firstly to a try for centre Lune Riddell out on the right and then a second try for Tasker. There was a final flurry from the Wolves but when they failed to gather in from a lineout on the Harrogate line, that was that.
No argument though, Harrogate were just the latest side to show the gulf between the top sides in the first half of this league and the rest. For Wilmslow now, it's a case of endeavouring to salvage some pride and honour in the next couple of months. Against second half of the table sides, they have sometimes not been so far away from enjoying a bit of success and a couple of scalps would do no end of good in restoring a feel good factor, some morale and motivation.
Photo: Props square up to each other.
Match report by David Pike.
Tags: