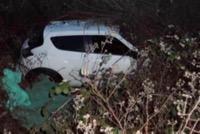 Shortly before 7.30am on Sunday 27 January Firefighters were called to reports of a collision on the A34 Pendleton Way shortly before 7.30am on Sunday, 27th January.
Firefighters from Wilmslow and Cheadle attended the incident and on arrival they found that two people were stuck in a saloon car which had come off the carriageway and gone approximately 15 feet down an embankment between the Wilmslow High School roundabout and Harden Park roundabout.
The team made the vehicle safe and then helped the two occupants exit the car and walk to safety. They were then passed to the care of paramedics.
Firefighters were at the scene for approximately 45 minutes.