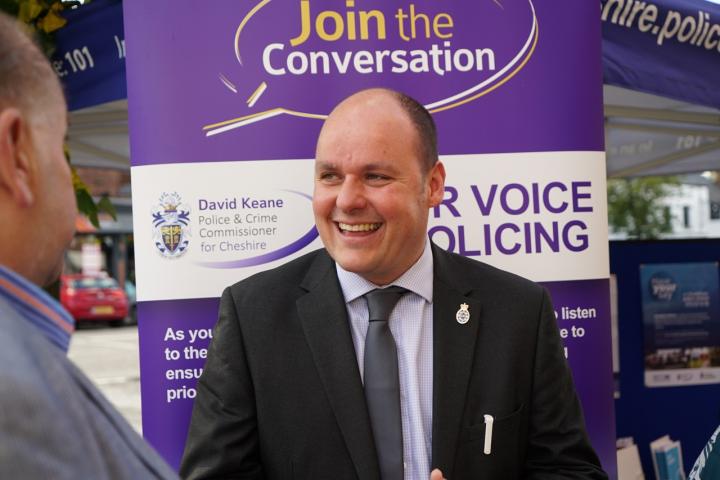 Cheshire's police and crime commissioner is asking Cheshire residents if they are willing to support an increase to the police precept to put more feet on the beat.
David Keane is today (Tuesday 8th January 2019) launching a consultation with the option to increase the policing precept in local council tax payments by £2 per month for the average band D household.
In December, the government announced that Cheshire Constabulary would receive funding to cover unavoidable pressures on policing but assumes that Cheshire taxpayers will fund almost two thirds of this through an increase of the policing precept.
David said: "The government has recognised that we need more money for policing but it is putting the burden on local taxpayers. Cheshire Constabulary has made more than £60 million worth of savings since 2010 but with non-pay budgets now over stretched, we have a stark choice to either fund this locally or significantly cut policing numbers.
"I believe that by funding policing through rising council tax, the government is essentially pitting the police against the local population. But without an increase to the precept, the funding offered for 2019/20 is insufficient to cover the existing budget, let alone inflation and increasing demand on our resources.
"With increasing pressures on household budgets, I understand that this proposed government increase to council tax payments is a bitter pill to swallow. However, I been left with no choice but to consult on the difficult option."
Residents and businesses across Cheshire are being asked to complete a survey to give their views on 2019/20's precept ahead of the commissioner setting the constabulary's budget in February.
The commissioner will also be holding a number of consultation events across Cheshire for residents to talk with him directly about their priorities for police funding. The nearest consultation event will be held in Macclesfield at Sainsbury's, 61 Cumberland Street on Tuesday 22nd January from 11am-2pm.
Cheshire residents can also give their views by completing a survey on the Cheshire PCC website.
The consultation closes at midnight on Sunday 27 January 2019.