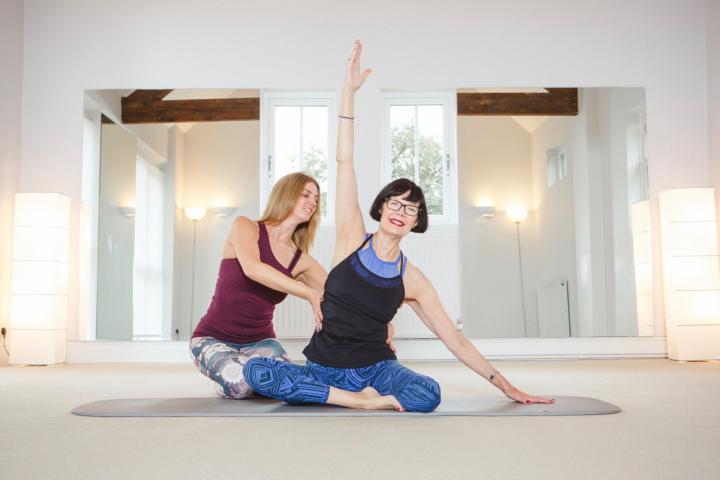 Promotional Feature
Why not make 2019 the year where you find the perfect balance in your life?
Take the first step and introduce Pilates into your wellness regime with a free session at Alderley Pilates. Discover the significant benefits Pilates can offer and learn with our team of experts.
We have been established for over 16 years and our teachers offer huge experience, enthusiasm and diversity of skills. Our aim is to provide the best possible standard of Pilates teaching possible, helping each and every client to achieve their individual health and fitness goals through 'Outstanding Pilates'.
Pilates is the perfect way to improve your flexibility and core strength but also to support your existing exercise regime keeping your body strong and helping to avoid injury. Although Pilates can be gentle and relaxing the more advanced levels are truly challenging and great for body shaping. However Pilates can also benefit you in other ways - as Joseph Pilates said "Pilates is the complete coordination of body mind and spirit" so whilst enhancing flexibility and physical strength it can radically improve your emotional, mental and spiritual well being.
To help you take that first step we have organised 'Winter Welcome Week' from 7th – 12th January offering a range of free places across our different Pilates classes. This will give you the chance to trial a session, whether that is a beginner workshop or a moving on class to help you progress to the next level. We are also offering free beginner sessions for all new clients across January. So make 2019 the year you focus on you. Whether it be to improve your flexibility or core strength, reduce back problems or simply help you to stay injury free – Pilates has something to offer for everyone.
Our team at Alderley Pilates have a wealth of experience across a range of disciplines; this is demonstrated through the wide variety of classes we offer. All of our teachers are qualified with Body Control Pilates committed to their own personal development and training, which means the level of teaching is outstanding. Join us to experience the positive benefits of Pilates & Mindfulness, or if you want something more graceful try Pilates Dance with Kate, one of our instructors who has a BA Honours in dance. If you are keen to try something more aerobic we also offer High Intensity Power (HIP) Pilates, which includes the use of free weights.
Our studio is located just 2 miles from Alderley Edge in the heart of the Cheshire countryside. This calm and peaceful setting is the perfect environment to enjoy and develop your Pilates. Our small class sizes, with a maximum of 12 clients enable us to give each client some individual attention, to help them maximise performance and improve. Our classes are graded at five different levels from Beginner to Advanced, meaning you will be working with a group at the right level for you, one to help you achieve what you would like to achieve through Pilates.
The amazing thing about Pilates is it is suitable for all ages and offers benefits to everyone. At Alderley Pilates we teach clients from early teens to 90 years+. We have a special interest in Pilates that helps with a range of back problems, including disc issues and scoliosis – this will be another focus during Winter Welcome Week with access to a specific back class with Peter.
Make your New Year's resolutions a reality. Sign up for something new with a free trial session at Alderley Pilates and discover if Pilates is for you.
To book your free trial class please call 01625 860475 or email info@alderleypilates.co.uk For more information please visit our website www.alderleypilates.co.uk where you will see our full programme of classes.
We look forward to welcoming you to our studio.
Jan & Peter Bowen and the Alderley Pilates team.
Tags: