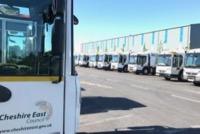 Cheshire East Council have been unable to carry out waste collections in Wilmslow nearly 100 times in the past year due to parked vehicles causing an obstruction.
Data obtained via a Freedom of Information Request revealed that, between 2nd January 2018 and 17th December 2018, Cheshire East Highways were notified of 93 incidents when refuse vehicles were unable to access streets in Wilmslow due to parked vehicles.
The worst affected streets were: Acacia Avenue with 13 recorded incidents in a 6 month period; Leigh Road with 11; Lindfield Estate North with 8; Mount Pleasant with 6; Windsor Avenue with 5 and Vale Road with 4 recorded incidents.
Julian Abbot, who submitted the FOI, said "This waste of our Council Tax money is a direct consequence of CEC & the local Tory councillors refusal to act to solve the parking problem in Wilmslow. From the data you have provided it looks like the unfortunate people on Acacia Avenue didn't get a consistent bin collection for the first 6 months of the year. "
Speaking about the recently parking survey which has been carried out in Wilmslow with a budget of £15,000, he added "Neither did the parking survey include discussions with property owners in Wilmslow such as Emersons who surprisingly have 1,390 private car parking spaces associated with the large number of buildings they own. The team who conducted the survey were completely unaware of this."