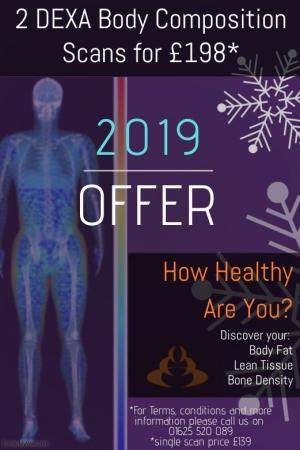 Promotional Feature
At beyondphysio you can find out:
Your visceral fat and regional fat levels
Your lean tissue and regional lean tissue levels
Your bone density (reduce the risk of the effects of osteopenia and osteoporosis)
Plus many more statistics related to your overall health
Beyondphysio in Wilmslow uses the lowest radiation medical grade DEXA to give you an accurate report showing precisely how much bone, fat and muscle mass you have so you can set realistic, achievable targets with your exercise program, training and diet.
Furthermore, our scanner can tell you how much fat is surrounding your organs (visceral fat) versus how much is distributed around the rest of your body. Subsequent scans serve to keep you motivated and help you make the necessary changes to achieve your goals, either in our specialist exercise classes, with your own trainer, GP led management program or during a training or nutrition program.
Our DEXA scans are highly accurate and the results can be used to create health plans that reduce your body fat, increase your muscle mass and improve your overall health. Find out how your results compare to other people of your age. Use this information to reduce your risk of health conditions such as osteoporosis, diabetes, hypertension, metabolic conditions and heart disease.
Contact us now on 01625 520 089 for more information or visit www.beyondphysio.com/dexa-body-fat-bone-scans.
Tags: