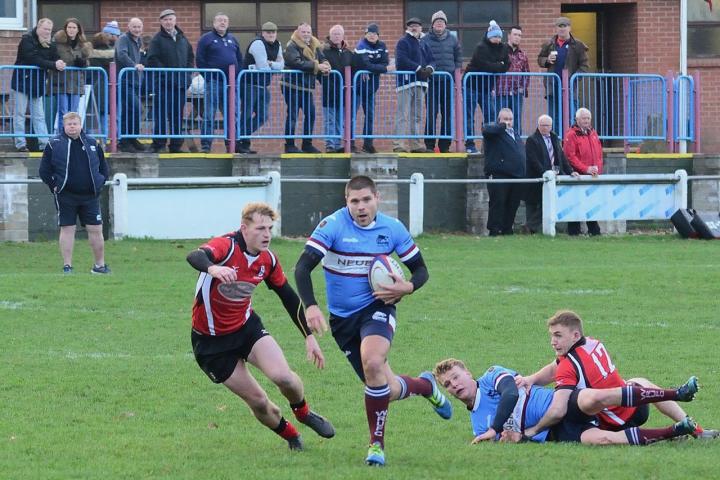 Saturday 24th. November 2018
Northern Premier League
Wilmslow 5 – 38 Blaydon
The final score line of six tries to one would suggest that once again Wilmslow were put to the sword by a better drilled and better organised Blaydon team, which deserved to come out on top. They had pace to burn and execution skills far in excess of anything Wilmslow could offer. Playing two leagues higher in the third tier of English rugby just two seasons ago, they have a model, set up and sustainable resources, far beyond anything that Wilmslow can muster. Their players and supporters too have a mind set and commitment which, after regular journeys to the South of England and the West Country just two years ago, regards a three hour plus coach trip to Wilmslow as unremarkable. After the Falcons, they're the premier club side on Tyneside and they make no apologies for doing what they believe is necessary to get back to the higher levels as soon as they can.
That said, this was a much improved performance from the Wolves, who were worth more than Bob MacCallum's sole second half score. With just a bit more accuracy in catch and drive situations and better running off their ball carriers, especially Sean Street, they could well have put another two or three tries on the scoreboard.
Blaydon though had it wrapped up with four tries in the first twenty five minutes, two of them emanating from harsh penalty decisions against the Wolves. 'When you're at the bottom of the league, said Wilmslow coach Rick Jones afterwards, you just don't get the rub of the green from refereeing decisions. Marginal calls, he added, such as two supposed forward passes, always seem to go against you. It's always been the same for struggling teams!'
Blaydon's first try came after ten minutes when Wilmslow were penalised at the set piece when prop Rhodri Lewis lost his footing after the ball had been won. The scrum wasn't under any pressure so there wasn't any reason for him to go to ground. Blaydon No. 10, Jamie Guy, who was built like a second row forward, put the kick into the Wilmslow twenty two, his forwards drove on from the lineout and when the ball was released they had an extra man over allowing left wing Frazer Wilson to saunter in unopposed. Five minutes later, they had their second when a flat Wilmslow pass in their backs was intercepted. Another five minutes on and Wilmslow were penalised again allowing Guy to put the ball into the Wolves twenty two again. The Blaydon forwards drove again despite what appeared to be a crooked throw, scrum half Nathan Horsfall broke through an inviting gap and an inside pass to one of his supporting back row produced their third try. Soon after, Street took a tap and go penalty on about half way but as so often happens got isolated, turned over in the tackle and the Blaydon backs quickly broke the Wilmslow defensive line for their fourth try. They could easily have added to their score if a couple of final passes hadn't gone adrift during a half in which Wilmslow had hardly threatened at all.
Nevertheless, it's a characteristic of this Wilmslow team that they never throw in the towel and their sheer endeavour made the second half much more of a contest. For ten minutes or so, they pressurised the Blaydon defence but when the position was lost a Blaydon penalty set up a close in lineout from which their forwards drove over. Three minutes later, the Wolves got the score they deserved when from the set piece space opened up for MacCallum to run round and touch down in the corner. Blaydon responded with a venomous piece of play, brilliantly executed from a pair of lineouts which produced their sixth try.
That they didn't score again was in part possibly because with the game won, they went off the ball and partly because the Wolves to their credit took the game to them in the remaining twenty five minutes. At least two close in lineouts came to nought, another penalty was kicked dead, a promising back move was thwarted when a tactical kick ahead went into touch and a further Street break ended when none of his team mates could keep up with him for the final pass.
Despite a ninth successive defeat, which now leaves Wilmslow at the foot of the league, Jones was upbeat about what he had seen from his players. 'Whatever the outcome this season, he said, I want them to relish and enjoy the challenge of rugby at this level. At times and today was no exception, we've shown that we can be competitive. If our players make the commitment, work hard in training and we make the most of what we've got, then we could yet cause some upsets and start to win a few games. Our fellow strugglers in this league Vale of Lune and Kendal both won this weekend against more fancied opposition. If they can lift their game to do it, then there's no reason why we can't also.'
Photo: Ben Day on the attack by Nick Jones.
Match report by David Pike.
Tags: