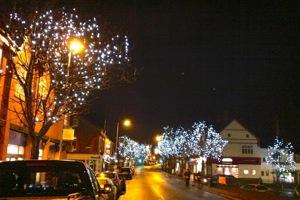 Promotional Feature
The businesses of Alderley Edge are coming together to offer a late night shopping event on Thursday the 29th of November.
Shops will be extending their opening hours into the evening to accommodate shoppers that may struggle to get into the village during usual trading hours. It will be perfect for those who want to avoid parking restrictions and those who just want to enjoy a lovely festive atmosphere – looking round the shops whilst enjoying the Christmas lights and festive offerings.
Waitrose have kindly offered FREE parking from 5pm in their South Street car park which will hopefully make it easier for visitors.
Many of the shops are offering exclusive discounts on the evening, there will be complimentary mulled wine and fizz in many of the shops to enjoy while you browse and lots of other special events around the village! More details on specific opening times and individual discounts will be posted on our traders website - www.lovealderley.co.uk.
Emma Mason Chair of Love Alderley says "As a group we have really tried to create an event that will make it easy and enjoyable for visitors and residents to come into the Village to shop! As always- our high street and it's retailers really need support. We are lucky at present to have a fantastic range of retailers in the village- with some great options for Christmas presents- so I hope that shoppers will take advantage of this opportunity to get some Christmas shopping done!"
The LOVE ALDERLEY loyalty card offers a variety of discounts from local retailers all year round and is free to sign up for - just visit the website for more information.
Tags: