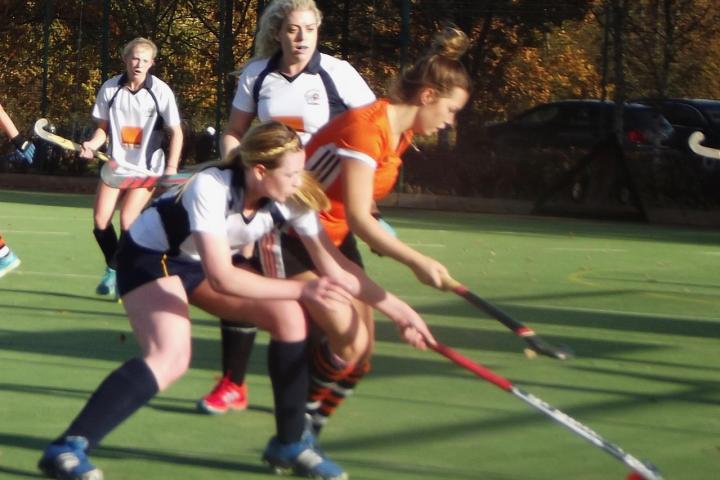 Wilmslow Ladies 1st 3 Bolton Ladies 1st 1
Wilmslow seemed set for a comfortable victory with two goals in the first half. Carla Botha and Lindsay Rachubka caused the Bolton defence many problems Emilie Kelman and Annika Hall proved dominant in midfield but unfortunately as the game progressed the goals failed to flow.
The tangerine's defence was as solid as ever but one slight chink in their armour was a vulnerability against pace. Bolton's young forwards did occasionally break out of the orange stranglehold and from one attack in the second half won a penalty stroke which gave keeper Cat Lang the unusual task of retrieving the ball from the Wilmslow goal.
Ladies 2nd had a good solid 2-0 win away to Bowdon 4th but the 3rds had a rare slip up at home to Whitchurch 1st going down 1-3. Ladies 4th had a narrow 3-4 defeat against Macclesfield 3rd but the 5ths took the points with a 3-0 win against Macc 4th
Wilmslow Mens 1s 1. Harrogate Mens 1s 2
Wilmslow continued their poor run of results against Yorkshire sides, however this was a spirited performance matching a very fast, top of the league, Harrogate.
Unfortunately the tangerines still missed their injured captain, Ben James. They were however boosted by the return of Pete Hallinan who caused a few problems for Harrogate with his trademark trickery.
In the first period Wilmslow had to come to terms with Harrogate's pace but some solid defending, especially from the two Wrights, Martin and Jack kept the game scoreless. As half time approached Harrogate finally broke the deadlock.
In the second half Ben Jones scored an excellent solo goal, just reward for a fine aggressive attacking display. With the scores level self belief started to return. David Boddie was matching the opposition for pace and Tom Davenport for skill.
As so often happens luck is not on the side of the struggling teams and Harrogate scored a late goal to take three points over the Pennines.
Wilmslow Mens 2nd looked to be coasting against Macclefield 1st with a 2-0 lead however they let themselves get distracted by some doubtful decisions and bad discipline allowed Macc to run out 3-2 winners. Mens 3rd had a good 3-2 win away to Deeside Ramblers. 4th lost to Knutsford 3rd 4-2. Mens 5th drew away Crewe Vagrants 3rd with whom they share top spot in the table.
Match report by Steve Kinsella.
Tags: