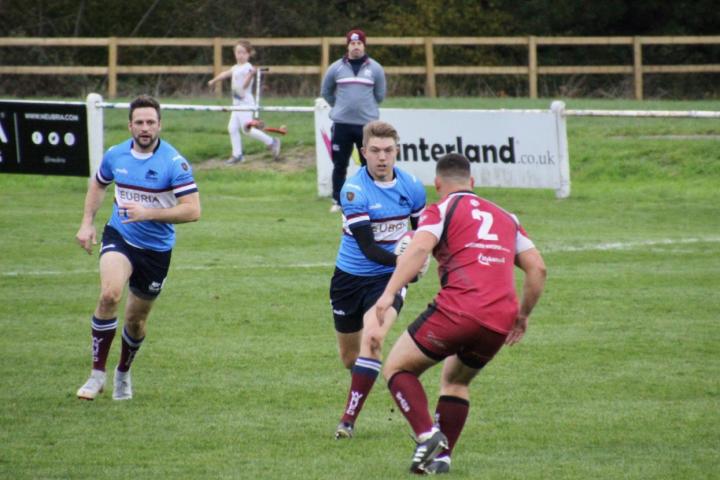 Saturday 3rd. November 2018
Northern Premier League
Wilmslow 26 – 55 Rossendale
The Wolves continue to find it hard going at this level of rugby. This game against a decent competent Rossendale side once again exposed the same Wilmslow frailties that we've been seeing all autumn. They have been winning their fair share of decent first phase possession from scrum and lineout in every game and at times they have produced some good enterprising rugby but their ability to retain possession of the ball in open play is still poor and the source of most of their problems.
Three times the Wolves spilt the ball in the first twelve minutes and three times the men of Rossendale seized on the loose ball to counter attack at pace and to score three times. Whenever they broke the defensive line, they had legions of players running off the ball carrier and scores inevitably, as night follows day, followed. A fourth try sandwiched between their second and third scores came directly from a lineout following a restart in their own half of the field. Leading 0 – 28, they would have had 100 points on the board by half time if they had continued scoring at that rate. The Wolves, however, started to compose themselves and playing some decent rugby for the rest of the half managed to pull back the deficit to 12 – 28. Coach Rick Jones told his charges at the break that the result of the game was by no means settled. They just had to carry on playing as they had been for the previous quarter and they had to score first in the second period.
But to no avail. Within three minutes, a Rossendale lineout was tapped back on the Wilmslow side but the loose ball was not dealt with as it should have been. It came back on the Rossendale side and a well placed kick bounced evilly for the covering defence and they ran on to it to score their fifth try. Two more scores quickly followed, both of them having their origins in Wilmslow mistakes, and at 12 – 45 with half an hour still to play the game was lost and annihilation threatened. We then had a period when Rossendale showed exactly how to retain the ball and for fifteen minutes or so the Wolves were under intense pressure. They showed considerable character in only conceding a series of penalties to Rossendale during this period but a robust heroic defence prevented any further scores for the time being. Whatever else was happening, there was no surrender and the Wolves refused to give up. Eventually, they kicked their way out of their own half, earned a penalty and from the lineout set up a catch and drive for their third try. There were still ten minutes to play and a fourth try would at least earn the Wolves a bonus point. In the last play of the game, they again crossed from a catch and drive but not before Rossendale had added another two tries, one from yet another dropped pass and the other from general confusion when the restart didn't go ten metres.
Rossendale's first try came from No. 8 Phil Mills after just two minutes when the Wolves obligingly dropped the ball in midfield and failed to react when the counter came. He was also to score their third and fourth tries, all in the first twelve minutes. Their second try was scored by No. 12 Jack Ward. We then had to wait until the second half for their next try when full back Curtis Strong ran on to the bouncing ball on the Wolves 22. His second try after seventy minutes was from a set piece when he made the extra man in their back division. Right winger George Peel scored their sixth try, No. 10 Lewis Allen, their seventh and the ninth was from Jake Foster.
Wolves No. 8, Alex Taylor scored all three of Wilmslow's catch and drive tries from close range, the first after a series of lineouts on the Rossendale line at the end of the first quarter. He also delivered the inside pass to Sean Street for Wilmslow's second try on twenty five minutes after a fine break by winger Harry Patch down the middle from the restart had split the Rossendale defence. Patch continually caught the eye with his barnstorming runs, as did centre Jonny Kennedy, whose powerful running always made ground, if only there had been runners on his shoulder to take an offload. Street too threatened on a couple of occasions but found himself isolated when he needed support.
Rick Jones was in belligerent mood afterwards. He didn't feel his side had got any rub of the green from referee Kieron Henry at the breakdowns and that told particularly in the second half. Once again he'd had to shuffle his resources. MacCallum was sidelined after taking a painful bang in the ribs the week before at Billingham. It meant a difficult and challenging start at No. 10 for Elliott Rowe, who acquitted himself with many more plus's than minus's. No. 10 for the Wolves against Rossendale would have been a big step up for him. Jones was pleased with the Wolves excellent set piece and lineout play and signalled out Adam Hewitt, Jonny Kennedy and Harry Patch for brave performances. 'The side never gave up, he added, especially when they were under the cosh for a long period in the middle of the second half. They showed character in defence and in the end were worthy of their bonus point. If we could just become more patient and cut out those kamikaze moments, then we could be doing so much better. We just now have to pick ourselves up and go again whatever the outcome.'
Photo: Elliott Rowe is supported by James Coulthurst
Match report by David Pike.
Tags: