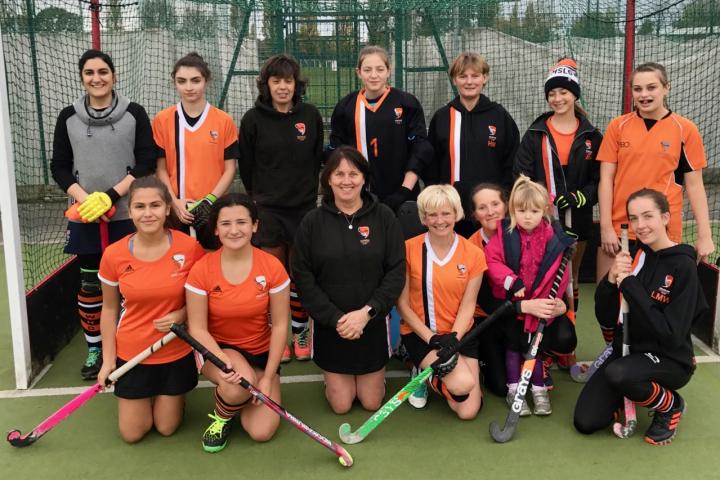 Oldham Ladies 1st. 0 Wilmslow Ladies 1st 5
The Ladies first team travelled to Oldham in a fixture which is often tight affair and where they came away with a 1-0 victory last season thanks to a goal in the last 3 minutes.
The girls started on the front foot and their high intensity was rewarded with multiple turnovers in the oppositions half. In the first five minutes, the team squandered chances which on another day they would have converted.
However, it didn't take long for Carla Botha to get on the score sheet. Lovely interplay between Honey Dickinson and Lindsay Rachubka high up the pitch presented an opportunity which Botha was never going to miss, 1-0 to the Oranges.
Wilmslow maintained their intensity and were rewarded with a second goal not long after when reliable midfielder Annika Hall grabbed her first goal of the season with a lovely reverse into the bottom corner after evading numerous challenges; 2-0.
Oldham were still looking dangerous on the counter however clinical tackling in defence ensured their shots were kept to a minimum with Cat Lang thwarting any attempts which fell her way. Nice work through midfield resulted in a succession of penalty corners for the visitors. Captain Charlotte Kelman, appearing on the scoresheet for the first time this season, scored with an accurate shot that just evaded the opposition keepers outstretched leg. 3-0 to Wilmslow going into the break.
Coach Ray-Hills gave a motivational half-time talk which focused on ignoring the scoreline and continuing to play at a pace which the opposition were struggling to cope with.
The second half was a similar affair with Wilmslow much the better side and looking dangerous on every foray into the opposing 23. Excellent play by Botha returned the favour to Lindsay Rachubka, who converted her 9th goal in only 6 games.
Wilmslow were awarded a flick for a wild challenge on Lily Harrison in the 'D'. Hannah Kelman stepped up to take it and was unlucky not to score thanks to a great save by the Oldham keeper. Charlie Westbrook-Platts finished a clever short corner routine to complete the scoring on a good day for the visitors which saw the game finish 5-0.
This victory inflicted the first defeat of the season upon their opponents and takes the first team to top of the table in their continued battle for promotion.
Ladies 2nd beat Runcorn 1st 1-0, always a hard fought physical game to go 3rd in the table.
Ladies 3rd were back to their best with a 5-0 away win at Triton 2nd to stay top.
They were closely followed by the 4ths who won 5-1 away to Crewe Vagrants 4th also for league leader spot.
The 5th unfortunately had a mismatch travelling to Colwyn Bay to lose 15-1 to the Welsh teams 1st who are runaway league leaders, averaging over 10goals per game
Ben Rhydding Mens 1s 7 Wilmslow Mens 1s 1
With an injury-depleted squad Wilmslow travelled to Yorkshire to face one of the county's top five sides. They gave a spirited account of themselves but the absence of skipper, Ben James, in defence told on the scoreline, The tangerines eventually went down 7-1 to put them in the relegation zone.
Mens 2nd beat Triton 1st 4-3. Wilmslow were completely dominant in the middle period of the match to go 4-1 up but relaxed towards the end to let in a brace, however they retain top spot.
The 3s romped to a 5-0 win against Liverpool Sefton 3rd
Mens 4th also had an easy day at Alderley beating local rivals 6th 6-0.
With a weakened side and a makeshift goalie the 5th had the greatest test at home against Didsbury Northern 7. It ended 0-0 but 5th stay top.
Photo: Ladies 4s.
Match report by Steve Kinsella.
Tags: