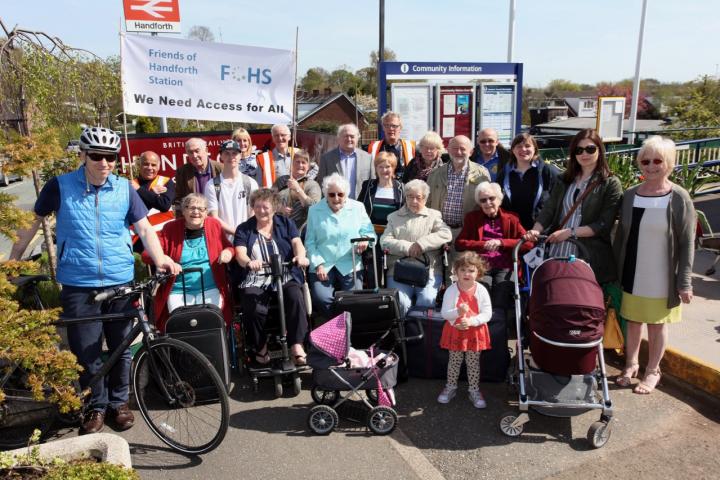 For almost 20 years, the Friends of Handforth Station have been campaigning for better access to the station for everyone - whether they be wheelchair users, people with pushchairs, heavy suitcase carriers or those with walking difficulties - as an alternative to the 35 steps down to the platforms.
Over the last five years FoHS have held detailed and lengthy discussions with the Royal British Legion, adjacent landowners, developers and Cheshire East Highways, unfortunately, until recently, without any success.
Then, earlier this year, the rail industry suggested that FoHS should make a bid to the Department of Transport for a portion of their Access for All fund.
In order to do this it was necessary to commission a Governance for Railways Investment Projects (GRIP 2) study by a firm of consulting engineers. The costs of such a survey are in the order of £20,000, which seemed like an unattainable target for FoHS. However FoHS, supported by The Manchester-Crewe Community Rail Partnership, have recently formed a consortium with Network Rail, Northern Rail, Cheshire East Council and Handforth Parish Council. The latter three bodies have, together, provided the funding necessary for the GRIP 2 study to go ahead.
Mike Bishop, of Friends of Handforth Station, told wilmslow.co.uk "The GRIP 2 survey is now almost complete and will allow drafting of the application for funding from Access for All. This application will entail a request for the provision of a pair of lifts and must be submitted to Access for All by 16th November. The application needs YOUR help because it will be greatly improved by letters of support.
"Already a number of such letters have been received with thanks. If your interest group or you, personally, are disadvantaged by the current 35 steps then FoHS ask you, please, to write in support of the application. Simply go the Friends of Handforth Station website and select Contact or by contacting Mike Bishop on 01625 524123.
Mike added "It's been very gratifying to witness how all the stakeholders have at last risen to the occasion in response to the strong and urgent FoHS facilitation. Now it is up to you and all in the community to add their voices in support of this bid."