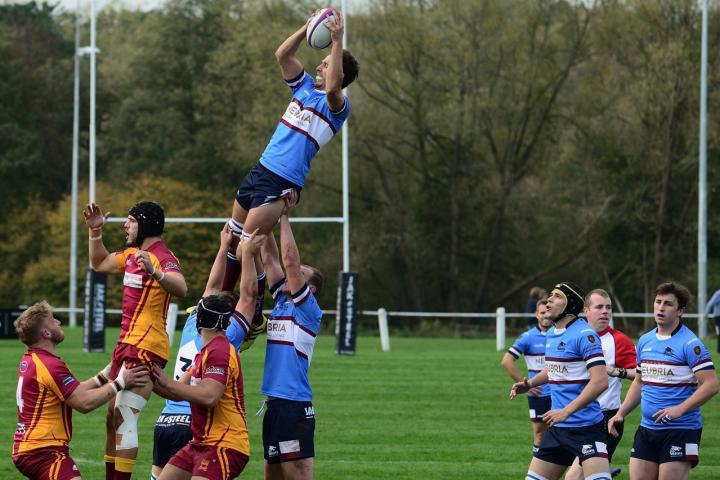 Saturday 20th. October 2018
Northern Premier League
Wilmslow 29 – 46 Sandal
Oh! The agony and ecstasy of Wilmslow rugby but not necessarily in that order. Wilmslow scored five tries against Sandal, who scored six but Sandal's kicker Greg Wood added sixteen points with his boot to Bob MacCallum's four for the Wolves. That though amounts to only part of the story.
Despite an encouraging first ten minutes for the Wolves and two tries in the first quarter, Sandal still opened up a nine point lead on the half hour with two second quarter tries. From then on, they always looked to have something in reserve in the tank. There were some exciting ripostes from the Wolves on the counter but when these were snuffed out, and Sandal regained possession, they always looked dangerous. Well organised, with fewer unforced errors when in possession and a bit of gas where needed, they showed just why they're more than halfway up the table. They didn't take long to reply to Wilmslow's opening score after just five minutes and despite going 12-5 down midway through the first half, they had what it takes to quickly reply. In truth, it was a further demonstration of a regular Level 5 side able to ride out the rough periods and to take full advantage of any mistake or error by the home side. If you knock on or lose the ball at either set piece or lineout or miss a tackle against sides like Sandal, you will struggle to regain possession and end up paying a heavy price. Despite a brave effort, the Wolves were ultimately just ground down at key moments.
On a sublime late October afternoon, not a breath of wind in the atmosphere, a warm sun and surrounded by the dazzling autumnal colours from the adjacent Styal woods, you couldn't imagine a more agreeable spot for a game of rugby than The Memorial Ground. Once again spectators were able to consign their anoraks, caps and other waterproof wear to the boots of their cars.
The Wolves started brightly and despite an early knock on and high tackle, they managed to steal a lineout for the outstanding Jonny Kennedy to break through in midfield. His off load to Mike Clifford saw the big lock gallop away for the opening score. The Wolves were then promptly turned over at the restart and after a short penalty for another high tackle, scrum half Will Morecambe scrambled over for the equalising score. The Wolves lead had lasted just two minutes. Both sides had scoring opportunities in the next ten minutes, Sandal probably more than Wilmslow, but the final passes just weren't going to hand.
Wilmslow's No. 8 Alex Taylor had a perfectly good touch down ruled out because referee Henry had blown his whistle for a Sandal offence before waiting to allow any advantage. No matter, a catch and drive soon followed for prop Jordan Ayrey to restore the Wolves lead after 23 minutes. It didn't last long though, the Wolves fouled up the restart again and after a series of phases No. 8 Alex Edler was on hand to score Sandal's second try, which Wood converted to put the visitors in front. They never lost the lead thereafter. MacCallum's restart was ruled not to have gone ten metres giving Sandal a scrum in the centre on half way. They knew exactly what to do and several phases later, prop Tom Baxter ambled in for their third try.
The Wolves were now in trouble as everything they tried seemed to end up with powerful Sandal runners capitalising on loose kicks out of defence or from untidy Wolves play as they desperately tried to get back into the game. How Sandal failed to score again during this period was a mystery and it gave the Wolves some relief when half time was called.
Jonny Kennedy started the second half with a scintillating break from halfway. He wasn't able to get his pass away but Sandal infringed on the floor and when Sean Street was held up on the line, Alex Donaldson was present to score. With just two points separating the sides, could the Wolves pull this one out of the hat, you wondered. For a few more minutes, the Wolves continued to attack but when Sandal got the ball away from an uncomfortable looking backward moving scrum, a fierce break by their outside centre shredded the Wilmslow defence, enabling Edler to run in for their fourth try and his second. Quite simply the Wolves had been outpaced.
Again the Wolves lost a lineout, then got penalised at the breakdown, the pressure just built up and Austen Thompson went in for the fifth try. At 19-33 with twenty minutes still to go, the game now looked lost and it was just a question of by how much and could the Wolves sneak a fourth try to get a losing bonus point. They actually did better than that, creating several opportunities with some enterprising play until Alex Taylor scored from a lineout drive. Sandal's Wood was now clearly running down the clock by kicking for goal from penalties when earlier on, he would have opted for lineouts. Maybe he is set on being the league's leading point scorer this season as three points for a penalty is more than two for a conversion.
Their lead was extended to 24-39. Wilmslow's Adam Hewitt then got himself yellow carded for fighting, probably through sheer frustration, Sean Street followed a minute later for a professional foul but despite that the thirteen man Wolves managed a good move to put right winger James Coulthurst in for their fifth try with just one play of the game remaining. There was still a remote possibility of earning a second losing bonus point if they could win the restart but Sandal's Greg Wood was too wise for that. He knew there would be gaps because the Wolves were down to thirteen. He just looked around and prodded his restart into the nearest unguarded space, ran on to it to collect the ball and then fed Thompson again who sauntered in for their sixth try. Clearly a training ground move worked out well before with every Sandal player knowing what to expect. Clever stuff!
Rick Jones just shook his head afterwards. "We're capable of living at this level", he said, "but we have to defend much better than we are and we have to stop making it so difficult for ourselves by cutting out the mistakes, such as messing up the restarts, which are costing us so dearly."
"There were some outstanding performances", he added, "Jonny Kennedy is just getting better and better, Mike Clifford and Adam Hewitt too. Alex Donaldson probably had his best game of the season and was in the thick of it. Some of the others on the day were not so far behind but there are still a number who will have to raise their game if the Wolves are to start getting more than the occasional losing bonus point. That's the challenge they face."
Photo: Adam Hewitt takes the lineout.
Match report by David Pike.
Tags: