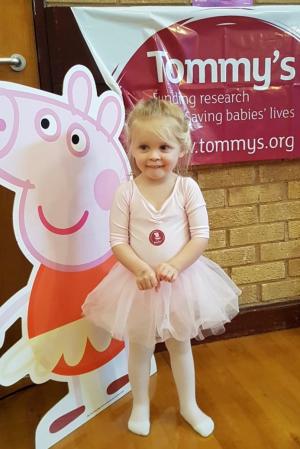 A two year old ballerina has raised over £2000 to help save babies' lives after her parents tragically lost their baby girl this month.
Annie Bell completed her first Danceathon at Wilmslow Methodist Church on Saturday, 20th October, to raise money for Tommy's who fund research into miscarriage, stillbirth and premature birth.
Nikki and Tom Bell, who have lived in Wilmslow all their lives, sadly lost their baby girl Robin at 21 weeks and 3 days.
Nikki explained "Our story began at my 20 week on the 2nd October 2018. After our unproblematic 12 week scan we were full of excitement to see our baby and find out whether our 2 year old daughter would have a sister or brother. However, the sonographer told us that the amniotic fluid was low & her image of the baby was therefore very difficult to see. Having never experienced this before we were concerned and our later conversation with the consultant did not leave us feeling hopeful.
"A week later we had a scan at St Marys in Manchester. At this appointment our world came crashing in as we were told that there were too many problems for this pregnancy to progress any further. Under the guidance of the doctor we made the heart breaking decision to end the pregnancy and unfortunately we were to see our baby girl 4 months earlier than anticipated.
"The next few days were utter hell but our 2 year old daughter brought us sunshine, along with all her gorgeous cousins. Our amazing family and friends were there for us every step of the way and on the 12th October we entered the maternity ward without the excitement and buzz we had a few years before. After a long and painful day our baby girl Robin entered the world. She was perfect in every way and we loved every inch of her tiny body."
Nikki added "We are blessed to have spent the night with her and we hope that research into complications in this pregnancy will help other people not to have go through the same thing we did."
If you would like to support Annie's fundraising efforts donations can be made to Tommy's via their JustGiving page.