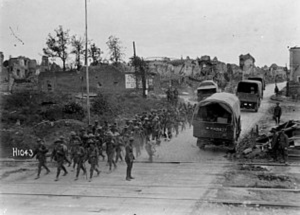 The Allies now mounted intolerable pressure on the enemy on all fronts by undertaking a series of closely phased offensives with marked local superiority and for limited objectives. The Germans were outfought at all levels. Many famous tactical and strategic points fell into our hands: the Belgians took Zeebrugge and Ostend; the French St Quentin, Laon and La Frere; we regained Armentières, Le Cateau, Cambrai and Menin.
Elsewhere Germany's allies were collapsing. Bulgaria had already sued for peace The Turkish army, weakened by famine and desertion, retreated in Palestine and Syria before the numerically superior land and air forces of Allenby - Damascus, Sidon and Tripoli all fell. On the 31st Turkey sued for peace and all hostilities ceased. At the battle of Vittorio Veneto on the 24th, the Italians significantly supported by British, French and American troops crossed the swollen Piave river and entered the Venetian plain. The Hapsburg Empire was now disintegrating faced with exhaustion, food shortages and unrest amongst political and ethnic minority groups.
It is perhaps unfortunate that the outstanding success of August - November 1918 has often been overshadowed in popular memory by the years of grim deadlock which preceded it.
These magnificent advances, however, exacted a heavy toll. With victory in sight our community lost 15 young men - one of the two worst monthly losses we incurred in the entire war. (The Somme in July 1916 also took 15.)
All of our fatalities are remembered locally in churches, on memorials and in graveyards often in more than one place. They are also either buried abroad near where they fell or commemorated if they have no known grave. (They are from Wilmslow unless otherwise stated.)
Pte Rupert Henry Edwards; 1st; aged 30, a gardener; formerly of South Oak Lane and then Arlington St, Bolton; 1st/5th Loyal North Lancashire (31890); St Loues Cemetery, Rouen.
Gunner Sidney Bowers; 1st; aged 31, a carter for a coal merchant; formerly of Lindow Common and then 44 Ashton St, Middleton; 169th brigade RFA (L16900); Roisel Cemetery.
Pte James Harry (Henry) Massey; 4th; aged 24, a porter at Wilmslow station; 21 Oak Lane; 1st/7th Cheshires (290993); Lijssenthoek Military Cemetery, nr Ypres. (His brother Dan had died in Salonika a month earlier, fighting with the Cheshires.)
Pte Charles Bailey Chadwick; 4th; aged 29, chemical mixer; Mill St; 29th Durham Light Infantry (85622) and ex Cheshires; Kandahar Farm Cemetery, nr Ypres.
Pte Joseph Charles Rigby MM for "bravery in the field"; 5th; aged 19, general labourer; 30 Park Rd; 1st South Wales Borderers (481241);Savy British Cemetery, St Quentin. (His brother Charles was killed 14th September 1917.)
Ordinary Seaman Ernest Booth; 9th; aged 17; 21 Park Rd; Royal Volunteer Reserve (Z5942); died of disease (possibly Spanish Flu) and buried in family grave at St Barts.
Pte Arthur Sumner; 10th; aged 40, a gas stoker at gasworks opposite Waitrose; Mill St; died whilst returning from Ireland with 500 others, when RMS Leinster was torpedoed; no known grave.
Corp George Quarterman; 11th; aged 28, a motor engineer; 262 Hanworth Rd, Oxford (mother from Wilmslow); 5th battalion Tank Corps (201019); Busigny Communal Cemetery Extension, Le Cateau.
Lt.Col Claude Swanwick Worthington DSO and bar awarded at Gallipoli in 1915; 14th; aged 41, an architect; "Broomfield" Alderley Edge; 6th Manchesters; Mount Huon Cemetery, Le Treport. The original cross marking his grave on the Western Front is now in Dean Row Unitarian Chapel.
Pte Sydney Burgess; 15th; aged 20, worked for a textile company S &J Watts, Manchester; "Rose Lee", Chapel Lane; 1st Border Regiment (260886) and ex Manchesters (2924); Dadizeele New British Cemetery, nr Ypres.
Sgt Charles Herbert Turner; 17th; aged 24, office administrator; son of Rev H W Turner of Wilmslow Congregational Church and Mendip Villa, Nursery Lane; 2nd battalion Royal Fusiliers (72491); Lijssenthoek Military Cemetery, nr Ypres.
Sec Lt John Tyson Taylor; 17th; aged 25, builders merchant administrator; "Spring Bank" Gravel Lane; 4th battalion Prince of Wales Volunteers South Lancs regiment; Cambrai Cemetery, Peronne.
Pte George Bushill MM; 23rd; 32, a gardener; "Ivy Dean", Mount Pleasant; 1st battalion Gordon Highlanders (290717); Romieres Communal Cemetery Extension, Valenciennes.
Rifleman John Cecil Davies; 24th; aged 20, auctioneer/land agent; 5 Fulshaw Avenue; 4th battalion Rifle Brigade (S/32368) ex RASC (296514); Kirechkoi-Hortakoi Military Cemetery, Salonika, Greece.
Able Seaman William Edward Morgan; 31st; aged 31, labourer for London & NW Railway, Crewe; "Hill Top"; Royal Navy Volunteer Reserves (R/1780); died in Connaught Hospital, Aldershot from Spanish Flu, he is buried in Crewe Cemetery.
Guest post by Jon Armstrong and Alan Cooper with a contribution from Michael Scaife, Wilmslow Historical Society.
Tags: