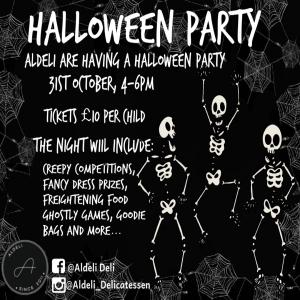 Promotinal Feature
Following the huge success of their previous Halloween parties, Aldeli is getting ready to host two spooktacular events this month.
On Wednesday, 31st October, deli is hosting a Halloween Gingerbread House decorating from 10am-11am. Children will be able to decorate their Halloween Haunted House to their gory hearts delight and then take it home with them to devour later.
Tickets, priced £16, include a scary snack plus a drink.
Then from 4pmto 6pm, Aldeli will hold a Halloween Party for little ones from age 3 upwards who are invited to dress up in their scariest of costumes for goulish games, frightening food, gory goodybags, monster mash dancing and best outfit competitions.
Tickets, priced £10 per child, include food & drink.
Ilana Higham said "We are thrilled to be hosting another Halloween Party after the success it has been over the last few years. We have a few new additions to our team who have been bouncing around spooky ideas for the past few weeks; games wise & especially food wise....the gory buffet will certainly be one to watch this year!"
All tickets must be purchased in advance - either in the deli Itself or you can email Ilana or call her on 07779289301.
Tags: