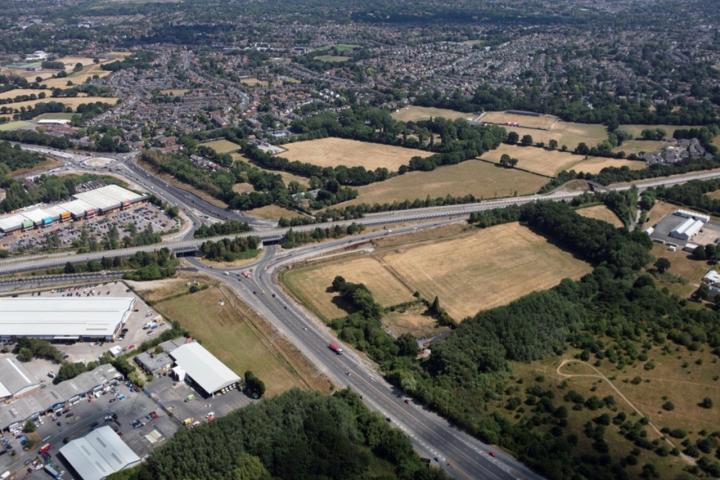 Having been hit by several delays the new A6 to Manchester Airport Relief Road is set to be opened to traffic in early October providing a road link for residents and businesses across Stockport, Manchester and East Cheshire.
Stretching from Hazel Grove in the east, to Manchester Airport the 10km link road was originally due to open by autumn 2017 after two and a half years of construction works.
The £290 million project, funded by the Department for Transport, includes seven new road junctions as well as another four that have been improved; 11 bridges including four railway crossings; 10 kilometres of single and dual carriageway; a shared cycle and pedestrian path that runs parallel to the road for its whole length and over 897,000 sq metres of new grassland, hedgerow and woodland as well as 11 habitat areas for wildlife.
Over the coming weeks, contractors will be working to put the finishing touches to the road including laying the final stretches of the surface, ensuring that all of the signals are working and making sure that all planning conditions are fully satisfied.
Ahead of opening to traffic residents will have the opportunity to explore the road for themselves during a day of community sporting activities on Sunday 7th October, including a free 5k run.
The leader of Cheshire East Council, Rachel Bailey, said: "The announcement of the opening date for the A6 Manchester Airport Relief Road is welcome news for the North West."The new road will provide enhanced east-west strategic connectivity across the north of the borough and improved access to employment opportunities and business links with Manchester Airport and the Airport City Enterprise Zone.
"The completion of this route and the council plans to deliver the Poynton Relief Road will relieve congestion in Poynton. It will also provide improved connectivity to the strategic highway in the region for the northern Macclesfield business area and Cheshire Science Corridor.
"The council is committed to encouraging economic growth, nurturing new business opportunities and improving lives within the borough. The new road will bring significantly improved connectivity and employment benefits."
Councillor Alex Ganotis, Leader of Stockport Council said: "I'm delighted that after many years of hard work and planning the A6 to Manchester Airport Relief Road is opening. The benefits this is going to bring for residents, businesses and our local road networks are significant. Not only will congestion on many local roads be reduced but pedestrians, cyclists, and public transport users will also enjoy greater convenience in their journeys.
"The direct link from Hazel Grove to the airport will bring the thousands of new jobs being created at the Airport City Enterprise Zone over the coming years even closer, opening up countless opportunities for all."
Councillor Angeliki Stogia, Executive Member for the Environment, Planning and Transport at Manchester City Council, said: "The opening of this new road will significantly bolster the highway network for all road users in Wythenshawe – with benefits including reduced congestion, enhanced air quality, safer cycling and walking and improved public transport journey times – while also supporting Manchester's economic growth and the continuing success of Manchester Airport."
Andy Burnham, Mayor of Greater Manchester said: "Manchester Airport not only provides our city-region with international connections, it is one of our city-region's key employment zones. This new road will provide a vital link there for the people and businesses of Stockport, Manchester and East Cheshire who will have faster and more reliable journeys.
"Cutting congestion is one of my key priorities and this new route will be vital in reducing traffic on local roads. The supporting cycling and walking infrastructure will also make active travel more attractive, safer and easier for more people and supports our ambition to make them the first and natural choice for short journeys."
Photo: View to the North East - Wilmslow/Handforth bypass. Taken July 2018.